As important as it was for Apple to make the switch from 30-pin cables to Lightning cables alongside the release of the iPhone 5, there is one significant problem Apple has yet to address over the years: the durability of its charging cables. They bend, fray, tear and sometimes just stop working altogether even with only moderate use over time. Thankfully, third-party accessory makers have caught on to this, and have started offering solutions. One such offering is the MOS Spring Lightning Cable, which claims right on the packaging to be "the indestructible charge/sync cable."
The Spring Cable isn't bulky or ugly either, which is usually the case with most heavy-duty iPhone accessories. It has about the same footprint as a Lightning cable (though it does come in various lengths — more on that in a bit) so it should play nice with different iPhone cases. But it also has three design features that contribute significantly to the durability, all of which are completely absent on Apple's Lightning cable and many other third-party cables for that matter.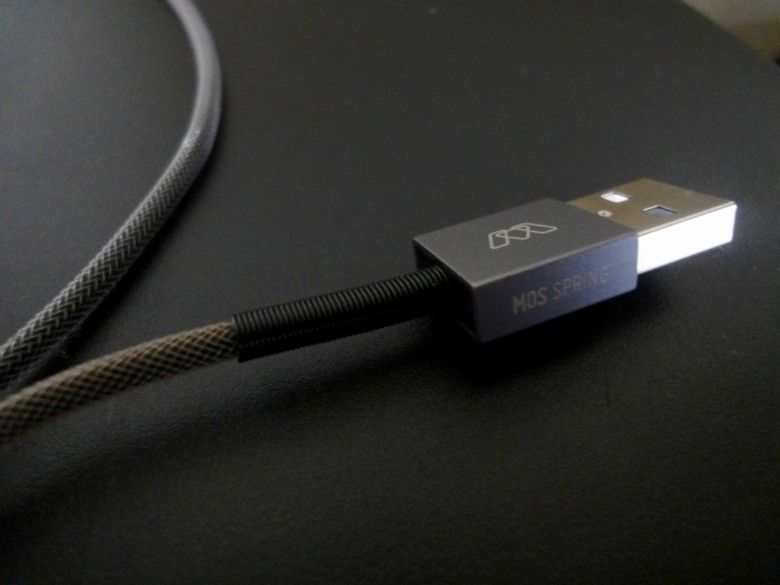 First, the USB and Lightning heads are made of aluminum instead of polycarbonate plastic. That makes them much less likely to crack and break under the pressure of, say, a desk chair rolling over it. Plus, right below both heads where most people tend to have fraying issues, MOS added steel springs. These help support the strain that is often placed on the cable when people bend and twist them in random directions while charging their iPhones. Lastly, the entire cable is wrapped in what MOS calls an Exoskeleton Jacket which adds a layer of protection and makes the cable more difficult to tangle.
I put my MOS Spring Cable through some various stress tests to see how it holds up. I tried pulling at the spring to see if it would pop out, plugging it in and twisting it around my iPhone, rolling a chair over it and just crumbling it up. The Spring Cable always went back to its original form. Nothing broke, frayed or even wore down. It also has this weird aluminum foil-esque flexibility to it in that when you fold it a certain way, it tends to hold that shape. But when you straighten it out it's like brand-new again.
The Spring Cable's build quality is really fantastic and feels quite premium, as it should for something that claims to be indestructible. Part of that claim is due to the fact that the cable comes with an impressive lifetime warranty, so if it does eventually fail the test of time, you can send it back to MOS and get another one for free.
The MOS Spring Lightning Cable comes in 1-foot, 3-foot, 6-foot and 10-foot lengths, with prices starting at $19.95. It also comes in micro-USB in addition to Lightning for Android users.
Over the years, I've trained myself to become extra-cautious with my Lightning cables so I avoid the wear and tear, but the MOS Spring Lightning Cable is definitely coming with me on my travels when rough and tumble is sometimes unavoidable.
.com/dp/B00K026YK8/?tag=cult087-20" title="Buy from Amazon" class="norewrite" rel="nofollow">Amazon