You should never take a video projector camping — it completely defeats the object of the great outdoors. Unless you have kids. Then it's handy to beam a movie onto the side of a tent to keep them quiet while you drink.
Perfect for the job is Sony's $350 MP-CL1 — a small, battery-powered pico projector. Not much bigger than an iPhone 6+, it beams a surprisingly sharp and bright image that belies it's small size.
Hook it up to your iPhone via a HDMI cable and adapter, and you're off to the woods.
Sony's MP-CL1 is based on the same MicroVision laser as the PicoPro, which we favorably reviewed last year. In fact, there's little difference between the two in terms of size, picture quality, battery life and so on. Sony's sturdy, all-metal aluminum body gives it a slight edge, as well as some extra keystoning controls. (They're supposed to be easy to use, but I found them difficult and frustrating. It was easier to adjust the picture by stacking the projector on a cooler and some boxes).
Despite the controls, the MP-CL1 is in fact easy-to-use. It's zero focus, which means it'll project a perfectly sharp image at any distance — unlike many rival projectors that require manual focusing.
The MP-CL1 projects at near 1080p HD resolution (it's actually a nonstandard 1920×720). The projector is rated at 32-lumens, which on paper is low, but in practice makes for images that rival a big HD TV, especially in the pitch dark.
At 12-feet away, the MP-CL1 projects a 120-inch image — although it's pretty weak and washed out at that distance. We used it at a party in our backyard, projecting video on the side of the neighbor's house. It was kinda watchable, but we won't be opening a backyard movie theater anytime soon.
The sweet spot is between 4 and 8 feet, which creates a 40-inch image and an 80-inch image, respectively. For travel, the MP-CL1 can't be beat. It'd be perfect for presentations in small conference rooms or classrooms. But in a bigger space, with images above 80-inches, the quality drops off sharply. Still, the portability can't be beat. It slips easily into a bag or purse and barely adds any weight.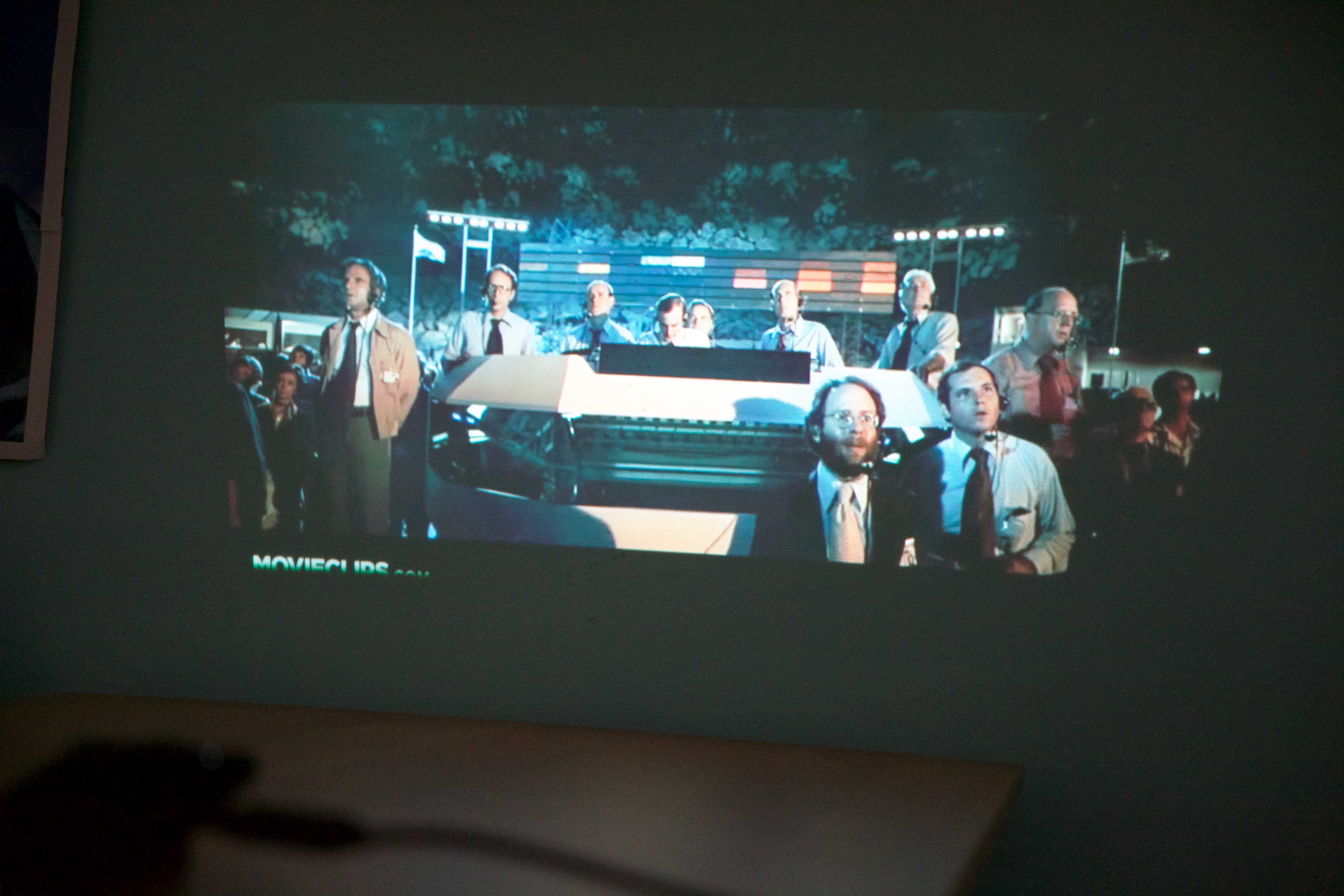 It measures 5.9 inches by 3 inches by 0.51 inches — about the same size as an iPhone 6+ and maybe twice as thick.
Video input is via a mini-HDMI (MHL) port. It's easily hooked up to an iPad or iPhone via the included MHL HDMI to HDMI adapter. You have to supply your own HDMI cable plus Apple's Lightning Digital AV Adapter, sold separately.
Hooking it to an Apple TV or games console is easier — just plug in the HDMI cable. Most Macs also require an HDMI adapter, again, sold separately. Some Android devices can connect wirelessly, via integrated Wi-Fi.
Its built-in battery is charged via a micro-USB charging port, and lasts about three hours of continuous video playback (roughly the same as the PicoPro). There's a USB port that can be used to charge your iPhone, but it saps them both pretty quickly.
The MP-CL1 has a small built-in speaker that is fairly puny but works in a pinch. A headphone jack allows you to attach outside speakers or a pair of headphones.
Sony pitches the MP-CL1 as a "take anywhere" projector, and it lives up to this billing. Its big advantage is portability. You could travel with it and an iPhone. In a dim room — or a dark campsite — it puts out a pretty bright, clear picture.
Buy from: Amazon
Be careful! Never look directly into Sony's MP-CL1 Pico Projector — the laser will burn your eyes.