iPhone OS 4.0 has been out for less than a day, but let's dig a little deeper into the beta preview.
The home screen shot above captures what happened when I was trying to rearrange apps. The UI is still quite buggy and all hell can break loose when you least expect it. Moving apps around is even trickier now that folders are an option. Great way to organize apps, still the same horrible system for moving them around!
Auto-focus, auto white balance and auto exposure seem to now all work under the Video function of the camera.
Also new to iPhone OS 4.0 is Faces (face-recognition) and Places (location) in the Camera Roll. Places crashed when tapped on and Faces appears to be controlled by syncing with iPhoto or Aperture.
Now you can set Messages to show you a character limit to the right of the text input box. You will not see it until you type at least 44 characters (third line of text).
Email will now let you send smaller versions of images in order to keep the file size down.
An arrow pointing North-east at the top right of the screen is informs you that your location is being used by an app.
The location tracking symbol is only shown when the user approves the use of location services in the app (it first pops up a permissions dialog). If you decline to let the app use location services, you will not see the symbol as your location is not being used.
Another example of the location services arrow symbol in use in Foursquare.
The camera also shows the location services symbol to function with Places.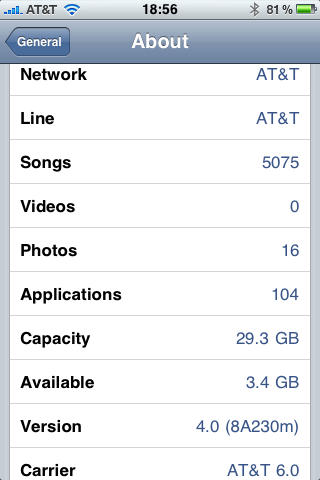 Not only does the new beta preview change your firmware to 4.0, it also alters your baseband settings. This is not a huge deal but some users have noticed that when they downgrade from 4.0 that their baseband settings stay the same; they do not revert to the pre-4.0 settings. Only time will tell what this means.
Here's how you customize the Home and Lock screens, just like the iPad.
Apple's social gaming system, called Apple Live, allows gamers to find to find other gamers to play against. It will function much like the Playstation network. Devs will be able to add this service into their games and let users play over the Internet against people from around the world. If this works it could dominate mobile gaming.
The system is not up quite yet. It uses your Apple ID as a login into the Apple Live server. I have no idea what Sandbox refers to.