This week, Buster looks to the future with the nine features we want most in the upcoming iPhone 6s, while Luke gazes into the past with a piece on how a Californian architect influenced Apple. Luke turns his sight to the future again with a possibly waterproof iPhone, as well as the present with Tim Cook's slam of discriminatory laws. John then shows us all how to create a thoroughly modern paperless office. All this and much, much more in this week's Cult of Mac Magazine.
Come and take a look.
9 features we want to see in the iPhone 6s

Even if it feels like we just got our iPhone 6 or 6 Plus, the anticipation for the next iteration of Apple's flagship smartphone continues to ramp up. Here's what we would love to see in the next pocket iOS device.
Watch it all happen in Cult of Mac Magazine April 3 Edition, Free on iTunes

How a California real estate developer helped create Apple as we know it

Both Steves grew up influenced by an early Californian architect whose open plan houses were all the rage back then, and continue to inspire designers even today. We talk to several designers and Steve Wozniak himself about this hot trend from the most free spirited state.
Get the inside scoop in Cult of Mac Magazine April 3 Edition, Free on iTunes

Your next iPhone might be waterproof

Take a look at this new patent granted to Apple based on a design by Colin Ely, back around the time of the iPhone 5s. A waterproofed iPhone could finally be on the way, thanks to Ely's method for sealing buttons specifically designed for iOS devices.
Dive deep into Cult of Mac Magazine April 3 Edition, Free on iTunes

Tim Cook rips discriminatory laws that 'rationalize injustice'

The current Apple CEO continues to use his power for the betterment of humanity as well as to create amazingly popular computing devices. Check out his latest rant about the rise of disgracefully discriminatory laws across the nation.
Do the right thing with Cult of Mac Magazine April 3 Edition, Free on iTunes

How to set up a paperless office using your Mac or iPhone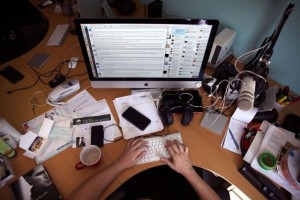 Creating an office workflow without paper still has many moving parts, but we're here to simplify the learning process for you with a thoroughly useful step-by-step recipe for making your own office completely digital using Apple technology.
Go paperless with Cult of Mac Magazine April 3 Edition, Free on iTunes