Board games have enjoyed quite the resurgence on the iPad, with digital versions of just about any game folks can think of, including Monopoly, Risk, Ticket To Ride, and Small World, just to name a few.
Many of these games have excellent pass and play gameplay, which lets gamers play a turn and then hand the iPad over to a friend to take their turn. What's been missing, though, from many of these games, is real-world dice. There's something delightful about the randomness of the analog cube, used in all kinds of board games from Backgammon to Yahtzee.
Dice+, then, aims to remedy that with a big, lovely, bluetooth-powered die, ready with its own app full of dice games that will work with the plastic die. Suffice it to say that playing a digital game with a real-world die is, simply put, sublime.
Imagine a well designed, balanced die that's an inch to a side. The numbered sides light up with the numbers, in some games changing colors when different players pick it up. So, when the green player rolls the die, the numbers light up green. Pink player's turn? Pink numbers. It's a nice touch.
The die is powered with a rechargeable battery; plug in the included cloth-wrapped micro USB cable into any USB port or wall charger and the micro end into a cleverly concealed port under the number one side. A charge lasts forever–I haven't been able to empty the battery in hours of playing.
Connecting the Dice+ to the iPad is simple; flip the die upside down and its numbers will glow. The free app will sense the cube and connect automagically. I had no problems connecting it to my iPad 3, but my iPad mini, running iOS 7.0.3, took a few tries.
Once connected, though, players get five board games made to support the Dice + device: Backgammon, Chuchumba, Rainbow Jack, Rumble Stumble, and This Way Up. The included games tend to be good for players aged three and up, thought they're still tons of fun, especially if players have a couple of kids to try them out with.
There's also a tab in the app to download other paid games that support Dice + to add to a collection. Many of them are Coming Soon, but card-and-dice-based Pirates – The Board Game is a standout title already at $1.99.
A charge lasts forever–I haven't been able to empty the battery in hours of playing.
What's great about Dice+ is that it simply works. It comes in a cute little bag that easily fits the die and included USB cord, which then can slip into a backpack or pocket with little fuss. At $39.99, it might seem like a bit of a cost, but adding the die to four or five new games is definitely worth the entry price.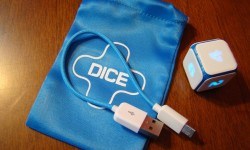 Game Name: : Dice+
The Good: Well designed, easily charged, simple to connect and use.
The Bad: Included games skew to a younger audience; many games are still "coming soon."
The Verdict For $40, this is a worthwhile little gaming accessory, especially for families with younger kids.
Buy from: Dice+ Website

[rating=game4]