One of the better Yuletide traditions is the venerable holiday Advent Calendar, in which each day of December leading up to Christmas is marked off on a special calendar by opening its corresponding door to find a small gift, toy or chocolate squirreled away inside.
This year, we here at Cult of Mac decided we wanted to give our readers their very own Apple-themed advent calendar, filled with the year's best apps, gadgets, stories and other curios. So each day in December, we're going to lovingly peel back the door on the Cult of Mac 2012 Advent Calendar to reveal another delicious morsel, something really special that came out this year that we think every one of you should enjoy.
What's the prize for Day 14? A wonderful little app called Hueless that will drain all the color from your photos..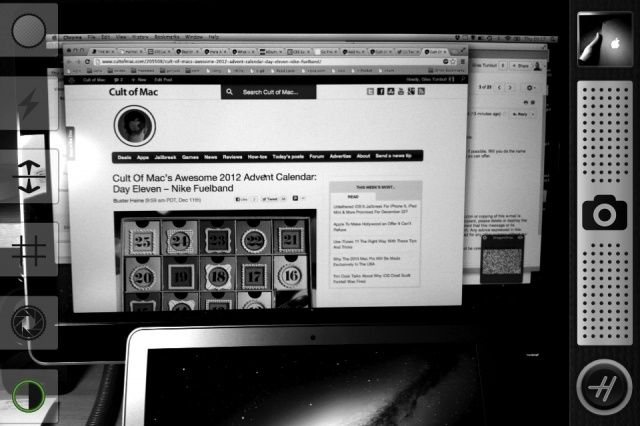 I raved about Hueless when it first appeared back in the early summer, and for good reason: it's not like other camera apps. It's not about editing, it's about shooting. That doesn't appeal to everyone, but it sure appeals to me.
Hueless is a monochrome camera for iOS. It's different from all the others, in that what you see on screen is exactly what you capture when you press the shutter button. There are a selection of controls on-screen that you can use to adjust settings, and you can tap anywhere to set exposure.
You do all the work as you're taking the picture, not afterwards. There are no filters to apply, no frames and textures and all that rubbish. It's about the image, not about enhancing the image. A small difference, but an important one.
Now it's true that as updates to Hueless have progressed, it has become slower on my (slightly creaking at the seams) iPhone 4. I've no doubt it runs like a dream on an iPhone 5.
But here's the thing: even though it's started to run slower on my older phone, it's still the camera app I keep returning to, again and again, when I don't have my trust Panasonic Lumix GF1 with me. Hueless helps me capture moods and atmospheres and light that no other iOS camera app can capture, not accurately.
Hueless is like jazz. It has rhythm, it has soul. It has a heart. It's lovely. It costs two bucks, and completely worth owning or giving to a photography-minded friend as a gift. Merry black-and-white Christmas, everybody.
Source: Curious Satellite