Lightning
Apple's 30-pin dock connector was an amazing piece of technology that you probably never thought much about. When Apple designed it, they created a skeleton key that would allow them to unlock a multi-billion dollar "Made for iPod" licensing business, and like tumblers in a lock, all those pins did something, allowing an incredible range of accessories to interact with the iPod, iPhone and iPad while keeping things cheap.
It was time to move on from the 30-pin dock connector.
That said, the 30-pin dock connector was ten years old, and it was showing its age. More than a third of the dock connector's pins were completely superfluous, and many of the rest were either dedicated to maintaining legacy support for a small subset of niche accessories or replicated functionality Apple can now do through AirPlay. The old dock connector was also one of the most likely parts of any iDevice to break. Worse, it was large and bulky, a massive element that needed to be crammed into Apple's increasingly thinner and battery hungry devices. It was time to move on.
The new dock connector is called Lightning, and the hallmarks of its design are this: it's a fully digital and reversible 8-pin connector that is actually smaller than microUSB, and more robust to boot, featuring multiple digital pipes that an accessory can call upon at the same time.
In the short term, Lightning — although undeniably more elegant than its predecessor — is going to be an annoyance to most iPhone 5 buyers. Apple has just made all of the existing 30-pin connector cables in your house irrelevant, which means you'll probably be sinking money into replacement cables. If you have iPhone accessories you rely upon, they won't work unless you purchase an expensive adapter, and even then, you might lose functionality. Worse, that adapter's not shipping until next month, and Apple's welched on pre-order promises to give everyone who buys an iPhone 5 an adapter for free. What the fuck, Apple.
These are all real complaints, but they aren't issues with Lightning per se: it's the angst that comes from parting with something you'd come to rely upon, coupled with a general callousness in the way that Cupertino is addressing that divorce. Few would deny that it was time for Apple to move on from the 30-pin dock connector, but it's testament to the incredible success of Apple's "Made for iPod" empire that the divorce is so painful. Can you imagine anyone mounting this sort of hue-and-cry if Samsung changed its proprietary connector? Nope, because Samsung changes their connector like a schizo all the time.
It's hard to quantitatively review Lightning right now, because there's not much to do with it except sync and charge your iPhone 5. In that regard, it works just as well as the old 30-pin dock connector, and like the 30-pin connector, it is still limited to USB 2.0 speeds, at least for right now. How well it will work with accessories both new and old and what possibilities Lightning opens up, it's just impossible to say. Lightning's still too new.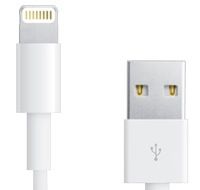 What I can say, though, is that Lightning is an incredible design for a connector. It slides into the iPhone 5 with an affirming click, and you simply don't have to think about it, because it's fully reversible (an important trait in a design this small, as it would otherwise be maddening trying to figure out which way is up… a constant annoyance with microUSB). The edges of the Lightning connector are rounded, so you don't need to worry about scratching your iPhone's veneer with it. Since all of the Lightning connector's pins are flush with the plug, there's no chance of them being accidentally bent and rendering either the Lightning connector or a Lightning accessory non-functional. And the thing is tiny: I could fit six of them on the area of my thumb nail alone.
Apple isn't handling the Lightning transition very well. In some ways, it's as if your Dad came home and told you he'd not only divorced your fat, comforting mother and married a supermodel, but that if you wanted to go give your mom a hug, you'd need to wait a month and pay the cab fare yourself. But Dad's new supermodel wife is still pretty sexy, and she can do a lot of things your old Mom can't.
I won't strain this analogy any more, since it's starting to get accidentally creepy, but the point is this: separation anxiety aside, Lightning is here to stay. It's a connector designed for the next ten years, not the last ten years, and there's every reason to believe that Apple's "Made for Lightning" business will be every bit as successful as it ever was.
Lignting is a connector designed for the next ten years, not the last ten years.
Give Lightning time. In the meantime, it sure is pretty to look at.