Have you ever wanted to quickly send a file or share a contact with your iPhone over Bluetooth? Unfortunately, iOS 5 doesn't have a built-in method for Bluetooth file sharing, so you're out of luck if you don't jailbreak.
A new Cydia extension called AirBlue Sharing brings zero-configuration Bluetooth sharing to the iPhone, iPod touch, and iPad.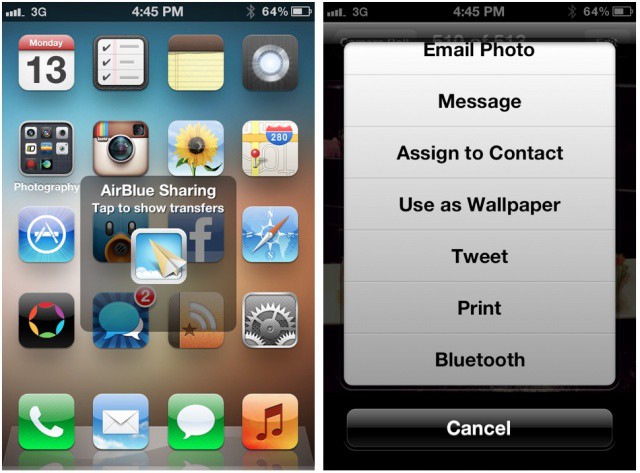 The last Bluetooth sharing tool to hit Cydia was called Celeste, but that app has not been updated for iOS 5 yet. Unlike Celeste, this new jailbreak extension requires absolutely no configuration. Here's the full rundown of what AirBlue Sharing has to offer:
Zero configuration
Native Bluetooth pairing, do not have to re-pair your device when using iOS native Bluetooth
High speed Bluetooth transmission, up to 1.7 MB/s
Automatically shutdown Bluetooth when transmissions are done to save power
Transfer files over WiFi connection — it's possible to transfer a video file in a few seconds (iOS to iOS)
Automatically create a WiFi hotspot for transmission when no Wifi is available (iOS to iOS, large file)
Send from Notes/Photos/Videos/Music/Contacts/Voice Memos…
Send any file from applications supported by "Open in" function
Import received files to Contacts/Photos
Import received files to applications supported by "Open in" function
Send/receive multiple files simultaneously
Sent/received notification sounds
Compatible with Mac OS X, Windows XP/Vista/7, Linux, Nokia, Android, BlackBerry and other Bluetooth enabled phones
Developed by Eric Day, AirBlue Sharing costs $5 in the Cydia Store. You can enable Bluetooth receiving mode with an Activator action in the extension's settings, and it integrates into the default iOS sharing menu. You can store sent files in apps like Dropbox or iFile. If you've wanted a way to send files over Bluetooth or WiFi, then AirBlue Sharing is definitely worth $5.