Apple has always been discounted as a major player in terms of PC market share, despite the fact that competitors try desperately to copy Apple products.
The latest market share analysis from Gartner for 2011's Q4 reveals that Apple was the only PC vendor in the US to see actual growth year over year.
"Continuously low consumer PC demand resulted in weak holiday PC shipments," said Mikako Kitagawa, principal analyst at Gartner. "While economic uncertainty in Western Europe had an effect on consumer PC shipments, expectations of a healthier economic outlook in North America could not stimulate consumer PC demand in that region. The healthy professional PC market as well as growth in emerging markets could not compensate for the weaknesses in mature markets, with overall growth still negative."
It's unclear as to how Ultrabooks will shape the global PC market this year, but all of the major players are banking on consumer adoption. Many argue that Apple started the Ultrabook revolution with the MacBook Air. In the fourth quarter of 2011, Gartner believes that "Consumers had very little understanding and awareness of ultrabooks, and only a small group of consumers was willing to pay the price premium for such models."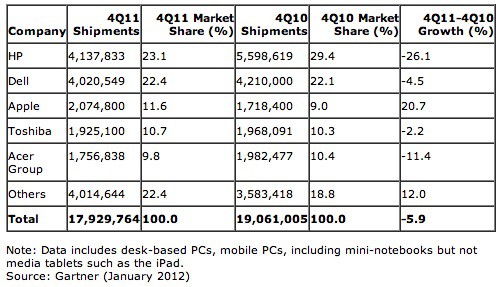 HP maintained the No. 1 position in the U.S. PC market in the fourth quarter of 2011, but Dell gained ground as HP lost substantial market share in the quarter. Apple enjoyed the strongest growth among the top five vendors. Lenovo's U.S. PC shipments grew 40 percent year-over-year, but its shipment volume was not enough to squeeze into the top five ranking (it was in the sixth position).
In light of Gartner's new report, Apple has seen year over year growth in Mac market share of nearly 21%. The complete PC industry suffered a 5.9% decrease in market share between 2010 and 2011. One of Apple's biggest competitors, HP, just saw a 26.1% year over year decline in US market share.
Apple will hold its 2011 fourth quarter earnings call on January 24th.