In a world of heavy data consumption, TruConnect Mobile is partnering with Sprint to offer pay as you go internet for as little as $4.99/month.
Instead of adopting a set in stone pricing structure like the carriers do for smartphone and tablet usage, TruConnect Mobile is offering a true 'pay as you go' internet service to subscribers. Customers will only pay for the data they use.
"With TruConnect's mobile Internet service, users pay a $4.99 monthly access fee and are charged only for the data they actually use at 3.9 cents per minute. The service is provided through a USB 3G dongle or a MiFi WiFi device that can connect up to five devices to the service with no tethering charges. There are no contracts, no activation fees, no monthly bills, no bundled data plans, no expiration of data and no overage charges.

"The world is thinking differently about mobile data services which means users are asking for more control over their data plans, instead of being forced into high-priced, contract-based plans," said Kevin Hamilton, president and CEO of TruConnect. "The nationwide Sprint network allows us to ensure delivery of our services no matter where our customers go and we're pleased to be partnering with such an industry leader."
The idea of pay as you go internet sounds wonderful, especially for users that rely on mobile devices like the iPad or MacBook Air on a daily basis. When you're away from your home network, you're usually forced to subject yourself to pricey, capped data plans from carriers like AT&T and Verizon.
Where TruConnect's plan structure comes into question is the 3.9 cents/megabyte price. On the TruConnect website, you will find this chart comparing data plans with other carriers: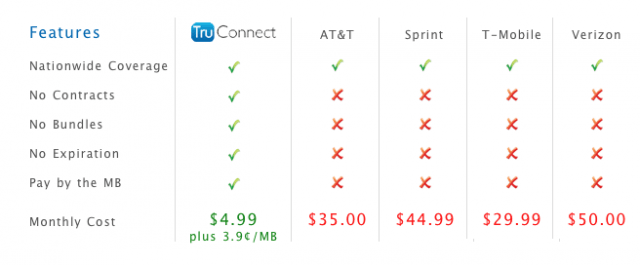 While it's obvious that TruConnect's flat rate of $4.99/month is lower than its competitors, the per megabyte price is actually pretty pricey.
Some simple math will show you that 3.9 cents/MB equals $39/month for 1GB of pay as you go data with TruConnect. You can get 2GB of data/month for the iPad on AT&T for $25. Verizon offers 2GB of data for $30/month.
With Sprint's 3G network, TruConnect does have the plus of a great backbone for data consumption. If you only use TruConnect to surf the web occasionally, then it may be a better option for certain consumers. The benefit of a pay as you go plan is that you only pay for what you use. On a normal data plan, you have to pay your monthly rate even if you don't get near your limit.
TruConnect's service can be used through a $70 USB card for laptops and a $90 MiFi for mobile devices like the iPad.
Let us know what you think of TruConnect Mobile's new plan in the comments. How does it compare to other data plans? Do you find the pay as you go aspect particularly appealing? We'd love to hear your thoughts.