This WhatsApp chat transfer post is presented by Dr.Fone.
When you get a new device and transfer your WhatsApp account to it, you might be surprised to find your past conversations don't automatically make the trip from the old device. Thankfully, WhatsApp transfer, backup and restore are nice and simple with Wondershare's Dr.Fone – WhatsApp Transfer, even when you're going from an iPhone or iPad to an Android device (or vice versa).
The functionality is part of Shenzhen, China-based Wondershare's popular Dr.Fone suite, which includes various apps covering everything from screen unlocking and system repair to data recovery and backup for iOS and Android devices.
Dr.Fone – WhatsApp Transfer is not limited by OS
Dr.Fone – WhatsApp Transfer can help you move WhatsApp messages directly, back up WhatsApp to a computer in one click, and restore a WhatsApp backup to a new iPhone or Android device. Although WhatsApp has official solutions to transfer WhatsApp chats using iCloud and Google Drive, they're limited to moves within the same operating system, either iOS or Android.
Conversely, Dr.Fone – WhatsApp Transfer can transfer WhatsApp history from iOS to Android or Android to iOS. That extends to any or all items you want from the chat history, including attachments. This makes Dr.Fone – WhatsApp Transfer a convenient alternative to other methods.
Dr.Fone – WhatsApp Transfer vs. other solutions
Typical ways to transfer WhatsApp data involve an iCloud method for iOS devices and a Google Drive solution for Android devices. You also can transfer WhatsApp chats between iOS and Android devices using a local backup, but only with the help of third-party tools. (See the comparison below.)
Moving your chats is easy with Dr.Fone – WhatsApp Transfer
The process of using Dr.Fone – WhatsApp Transfer is easier than other typical methods of moving chat histories, which are outlined below for the sake of comparison.
Note that the transfer process is the same in regular WhatsApp and WhatsApp Business, as Dr.Fone – WhatsApp Transfer's newest functionality includes the ability to move business chats to and from iOS and Android devices quickly and easily, just like personal chats. (Check out WhatsApp Business Transfer.)
Step 1. Connect your devices to the computer
Download and launch the Dr.Fone toolkit on your computer. To transfer WhatsApp messages from an iOS device to another iOS device or an Android device, select Transfer WhatsApp messages. Then connect your iOS or Android devices to the computer. Once the program detects them, you will get the window as follows.
Step 2. Begin to transfer WhatsApp messages
Click Transfer to begin the WhatsApp message transfer. Since this process will erase existing WhatsApp messages from the destination device, you need to click the Continue button to confirm this action.
Step 3. Wait until the WhatsApp message transfer is complete
During the transfer, simply keep your devices connected and wait. When you see the window below, you can disconnect your device and view the transferred data.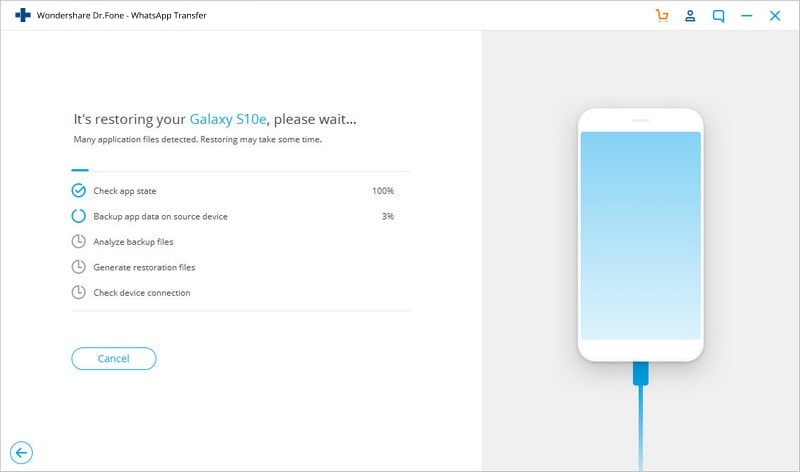 Compare that to other methods
iCloud
Using iCloud, you can take a backup of your WhatsApp chats you've stored there and later restore it to your new iPhone. Both the devices need to be linked to the same iCloud account.
First, launch the app and go to WhatsApp Settings > Chat Settings > Chat Backup.
To make an immediate backup, tap the Backup Now button.
Wait as WhatsApp makes a backup of your data.
While setting up WhatsApp on the device, restore the backup by clicking on the Restore Chat History option.
Wait as WhatsApp extracts data from the backup to the new device.
Google Drive
In this technique employing Google Drive, first make a backup of WhatsApp chats on your old device. Later, while setting up a new device, you can restore the backup. Both devices should be linked to the same Google account.
Launch WhatsApp and go to its Settings > Chats > Chat Backup.
Tap on the Backup button to initiate the process.
Launch WhatsApp on the target device and initiate the setup.
The app will automatically detect the backup file.
Tap on the Restore button and the backup will automatically be recovered.
iOS to Android: Use local backup and third-party app
When transferring between iOS and Android, accessing a local backup on iPhone is not feasible. So you must download and use third-party tools to access a backup and transfer the file.
Connect your iPhone to the system and launch an updated version of iTunes.
Select your device and go to its Summary. Click on the Backup Now button.
Make sure you are making a local backup on "this computer" instead of iCloud.
Use an iCloud Backup Extractor to access the WhatsApp backup file.
Transfer the WhatsApp backup file to the target Android device.
Install the WazzapMigrator app on the target device.
Launch it and select the iPhone backup to restore it to your new Android.
Conclusion
If you want to take the hassle out of moving your WhatsApp life from once device to another, skip the official methods WhatsApp suggests and get Dr.Fone – WhatsApp Transfer. Even if you're moving data between an iPhone or other iOS device and an Android device, you face a minimum number of steps and easy backups of your WhatsApp chat history.
Price: $21.95 for one-year license for one to five mobile devices and one computer; $29.95 for lifetime license of same; one-year business licenses range from $31.99 to $245.99.
Download from: Wondershare Dr.Fone – WhatsApp Transfer