iPad setups are often seen as limiting and hard to work with. They require a lot of accessories and peripherals. They do have some advantages though, besides a lower price point. They are more versatile and travel-friendly. And as iPads are getting bigger and more powerful, iPad-based setups are becoming less bohemian.

Photographer Ryszard Sikorski has one of the cleanest setups I have seen. He actually finds an iPad setup quite liberating. "What I like is that I can use [the iPad] how I need it," he said. "It's not static."


Sikorski has a lot of accessories to go with his 2019 iPad Pro. He has the MX Master 3 mouse, which he calls "the best mouse on earth." Hard to disagree. He uses a Satechi Backlit Keyboard or a Logitech Slim Folio Pro, depending on where he is and what he's doing. "When I have to write emails or do Office stuff I use different keyboards," he said. The Satechi is for photo editing and the Logitech is for lounging. His iPad rests on a Twelve South Compass Pro Stand and a Satechi R1 Aluminum Foldable Tablet Stand. Options are key.

He is also strapped for charging pads. He has a Satechi USB-C Wireless Charging Dock for his AirPods Pro. The roomy Satechi Trio Wireless Charging Pad gives charging space for three products. A lot of Qi to go around.

For audio he has Logitech MX Sound 2.0 Studio Speakers and beyerdynamic Lagoon ANC Traveller Bluetooth Headphones.

As for any fears about the iPad not having any USB ports. He sports a Satechi Aluminum Multi-Port Adapter, a Satechi USB-C PD Desktop Charger, and a Satechi Aluminum Type-C USB Combo Hub, giving him plenty of USB slots.

He concludes by saying "I have a Gaming PC and a older iMac but I don't use it. I can do all my tasks on my iPad."

Here are some more photos of Sikorski's setup: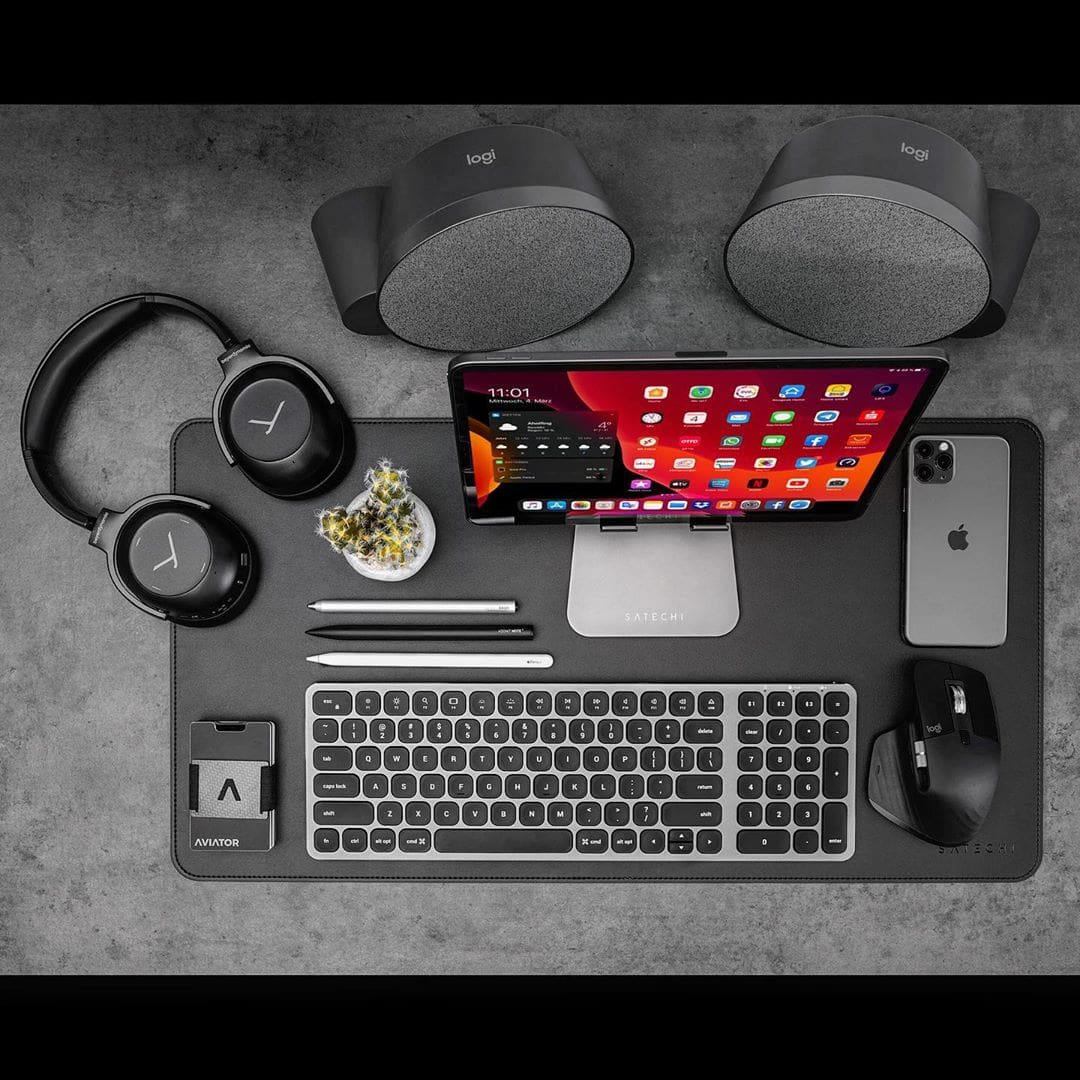 Shop these items now:
Via: @appletechgadgets
If you would like to see your setup featured on Cult of Mac, send some high-res pictures to [email protected]. Please provide a detailed list of your equipment. Tell us what you like or dislike about your setup, and fill us in on any special touches or challenges.
More Awesome Setups: