He drives a hybrid and he's fanatical about recycling — here are some gift ideas for the man who cares about the planet. Don't forget to recycle the packaging!
Vers 2X iPhone/iPod Speaker Dock
Eco-friendly speaker dock rocks with real wood
The Vers 2X iPhone/iPod speaker dock is a powerful, punchy little music system. It's made from renewable bamboo, which gives the speaker a natural, warm sound; and for every tree Vers uses, the company plants 100 more through the Arbor Day Foundation. The 2X is also available in walnut or cherry.
The Vers 2X is available in cherry or walnut for $179.99, or bamboo for $199.99 from Vers Audio
Apple TV
Apple TV: More bits, less atoms
The Apple TV is perhaps the most eco-friendly set-top box out there. First, there's very little to it. This is a small, atom-stingy package. It weighs just a little over half a pound, and its power-footprint is minimal. Plus, it's purely a streaming device, so there's no need for landfill-clogging DVDs.
The Apple TV is available from Apple for $99.00.
Solio Rocsta Hybrid Charger
Clip-on solar charger juices just about everything
The Solio Rocsta Hybrid Charger recharges just about every gizmo under the sun. No sun? Its battery can also be refueled through a wall outlet via the optional power adapter. It comes fully loaded with adapter tips for 3,200 devices, including the iPhone and iPod. It even has a plug-in LED light.
The Solio Rocsta Hybrid Charger is made by Solio and is available from Solio for $79.95.
Thinksound Rain 9mm Earphones
Environmentally friendly headphones create a more natural, less-digital sound
Thinksound's Rain earphones are made with real wood from renewable sources. These elegant, high-definition buds were designed with clarity in mind. Every pair comes with a cotton carrying pouch and four sets of ear tips for that perfect fit.
The Thinksound Rain 9mm earphones are made by Thinksound and are available with black or silver highlights from thinksound for $99.99 with free shipping.
Bioserie Bioplastic iPhone Case
An Earth-conscious iPhone owner would pick a case made from plants
Bioserie iPhone covers consist of a unique blend of biodegradable and environmentally friendly components derived from plants. Unlike most iPhone cases made from oil, this fully bioplastic body has no toxic ingredients.
Bioserie's iPhone 4 case is available in six pretty colors from Bioserie for $34.95.
Proporta Smart Recycled Leather Case for iPad
Look good while doing good by Mother Nature
Proporta Smart Recycled Leather Case for iPad is handmade from 100 percent recycled leather — leather off-cuts are ironed back into leather shapes and re-used. This beauty is lined with a natural, soft hessian and comes with a handy pocket for storing important papers; and of course, the case also doubles as a stand. Who says that one has to sacrifice fashion to be eco-friendly? Not Porporta.
The Proporta Smart Recycled Leather Case for iPad is available from Proporta for $60.15 including shipping.
nPower PEG iPhone Recharger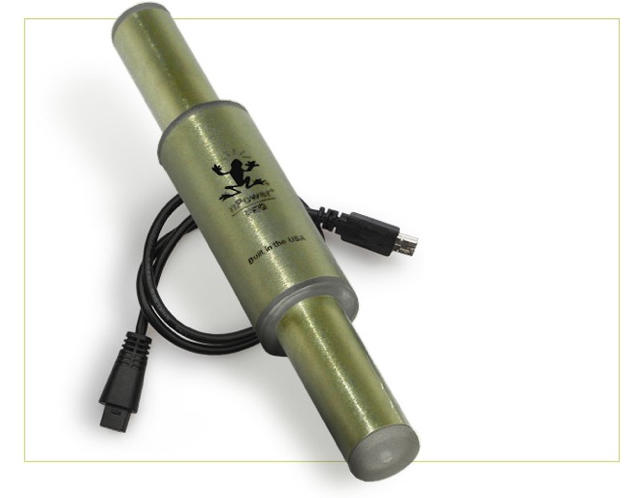 Generate power to go while on the move
The nPower PEG is a lightweight device that uses kinetic energy to recharge the iPhone 4, or about 3,000 other hand-held electronic gizmos. Just walking, dancing, jumping or any other kind of physical activity will continuously top-off its internal battery, providing extra power when needed.
The nPower PEG is available from for $149.99 for Apple products.
Green Genie App
Feeling green guilt? Get the Green Genie app
We all feel the pressure to be more green. The Green Genie offers general tips on everyday things you can do to make a difference, some of which might even help you save money. Even get caught up on your green terminology with essential reading on sustainability, or tackle one of the 100-plus projects provided.
The Green Genie App is available from Apple iTunes for $0.99. Compatible with iPhone, iPod touch, and iPad. Requires iOS 3.0 or later.