If you're looking for a better way to manage email subscriptions and junk mail, your life is about to get a whole lot better. Unroll.me is an iPhone app that lets you quickly triage and manage all your subscriptions in one place.
When I first scanned my iCloud inbox, Unroll.me found more than 70 subscriptions and items it considered junk. In less than 10 minutes, I was able to condense those into daily digests, or get rid of them altogether.
Unroll.me works by scanning your email accounts for items it considers to be subscription-based or junk. Once it's done scanning, you can quickly decide whether you want to leave something as it is, get rid of it, or add it to your personalized daily digest. You do this by swiping left, right or up. (If you're a frequent Tinder user, you'll feel right at home.)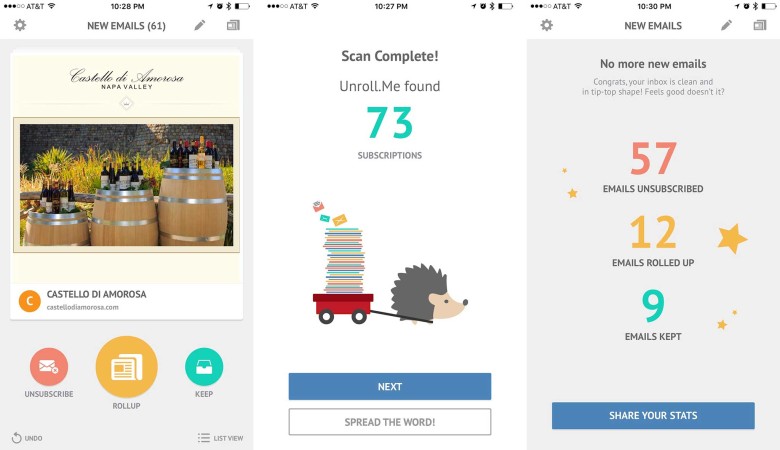 If you choose to add something to your daily digest (or "Rollup," as Unroll.me calls it), you'll receive a notification at the time of day you specify with all of your subscriptions condensed. All emails included in the Rollup conveniently bypass your inbox so you don't see them during the day. This is great for subscriptions you want to see but don't want cluttering up your inbox.
Since Unroll.me works by simply bypassing your inbox, you can make changes to any of your subscriptions and junk choices whenever you want. Just tap on the pencil icon on the main screen and choose the subscription you want to change. You can also access anything Unroll.me "rolls up" anytime by looking for the Unroll.me folder in your email account.
I've been using Unroll.me for a few months now and it works wonderfully. I particularly love the Rollup digest feature. I hate keeping newsletters in my inbox until I have time to read them since it just creates more noise. Unroll.me solves that problem for me.
Unroll.me is absolutely free to download and use. It supports Gmail, iCloud, AOL, Exchange, Google Apps and more. If you have a junk mail problem, I highly suggest checking it out.
This post was syndicated via The App Factor.