You can't stop staring at the new 12-inch MacBook, especially the gold one. It's lighter and smaller and while it has all the computing power of your suddenly-bulkier model, you're not sure about life with a single USB-C port.
A Miami startup, led by an electrical engineer, has designed adapters that will allow you to plug in all your peripherals and then gradually cut back as you move to a more wireless future.
The Cusby Building Blocks plug into a USB-C port with each offering a more traditional plug-in, like the current standard USB-A port, another with an HDMI video-audio port or another with an extra USB-C port.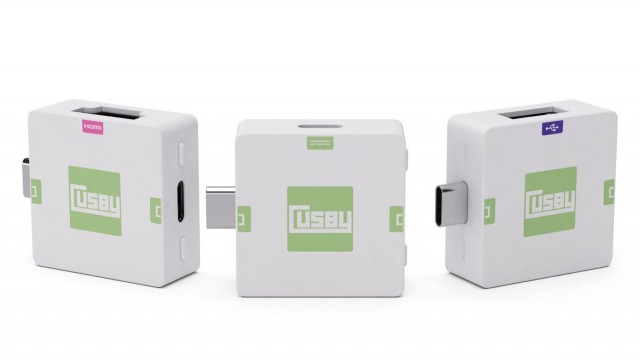 USB-C is the future standard and Apple earlier this year introduced a new, thinner MacBook with a single USB-C port. USB-C offers a single connection for everything with a bi-directional cord that delivers more power with a uniform plug that eliminates the hassle of figuring out which side is up. A number of adapters are available on Google and in the Apple Store.
The Cusby blocks became available for pre-order Tuesday morning on Indiegogo, with a variety of donation levels to help the company raise $15,000. Backers for $65 can get two blocks and a USB-C extension cable.
"We're invested in our devices and the future is wireless, but we're not really there yet," Cusby creator Albert Garvett told Cult of Mac. "The new MacBook design is beautiful. You don't want to put a lot of bulky stuff around it. We're trying to find a solution that fits everybody's needs."
Garvett said he believed the C needed to be upfront in Cusby and the Y at the end of brand name is "just to make it friendly."
Future blocks will be friendly to Thunderbolt cables and photographers with a plug-in media card reader.