Whacko fundamentalist group (and presumed Android users) the Westboro Baptist Church have announced plans to picket Apple again.
What's the reason this time? Well, aside from the fact that Apple makes very nice computers and smartphones, apparently the church elders have just gotten around to finishing Walter Isaacson's 2011 biography of Apple's co-founder, because they've taken issue with Steve Jobs.
"Apple and many of its customers revere Steve Jobs as a creativity genius and a technology god," the Kansas-based congregation wrote in a press release to the media handily entitled "God Hates the Media."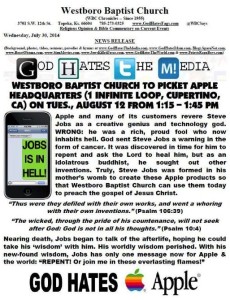 They go on to claim Steve Jobs resides in hell as a result of seeking out alternative therapies for his cancer treatment.
Apparently losing that train of thought, they then (somewhat bizarrely) claim that Jobs was put on Earth to create Apple products, which are today used without complaint by the Westboro Baptist Church. To punish Apple for its user-friendliness, the loopy churchgoers are planning on picketing Apple headquarters for a rather-unimpressive half hour on Tuesday, August 12.
This isn't the first time WBC have targeted Apple. Back in 2011, the Kansas-based congregation picketed an event dedicated to the memory of Steve Jobs. Apple fans hit with a counter protest, we'll keep you posted on what goes down this time.
Source: Twitter