SAN FRANCISCO — Moscone North has been packed with exhibitors for the last three days as they peddle their latest wares to the Apple faithful. We combed through all the booths, and while there were a ton of underwhelming products, Macworld 2014 did feature some really cool stuff and a couple surprises.
After some fierce debate among the Cult of Mac editors, we've settled on seven things that are truly deserving of a "Best of Macworld 2014″ title. So without further adieu, here they are:
BearExtender Edge
BearExtender revealed their newest WiFi extender at Macworld this week that promises to expand your WiFi signal to the farthest corners of your house.
The BearExtender Edge is optimized to work with iPhones, iPads, Macs, and AirPort Extreme but you can connect PCs to it as well. All you do is plug it into an outlet, run through a quick setup – no app required – and you'll be off and running with Wifi coming out your ears.
No word on a price yet, but BearExtender told us it will probably come in around $70 when it ships later this summer.
Cloak 2.0
Cloak is a VPN app that just hit version 2.0 on iOS and the Mac.  If you've never heard of a VPN, it's a way of connecting to the internet securely and anonymously, but unlike most VPN tools, Cloak's interface is fantastic, and thanks to new features for VPNs in iOS 7, it can automatically know when to turn on and off.
You can add trusted networks so that all of your traffic won't go through Cloak on your home WiFi, for example. Cloak can also be told to trust your cellular connection or not.
IN1 iPhone Case
Among all the new iPhone cases at Macworld the IN1 impressed us the most. It's basically  the Swiss Army knife of iPhone cases, packing a screw driver, tweezers, two pens and more. It's gimmicky, but it's still one of the cooler cases we've seen. Think Inspector Gadget with eight tiny, useful tools.
Petcube
For those pained with guilt for leaving Fido home alone all day, Petcube lets you interact and play with your pet anywhere you have a data connection.
The tiny box is equipped with a camera to keep your eye on your kitties and features a motion detector that can alert you when your pet is rummaging around. And if you need some quality playtime, Petcube is armed with a laser that you can aim around the room with your iPhone for some feline fun.
Glowdeck
I've never wanted a wireless iPhone charger until I laid eyes on Glowdeck.
The beautiful wooden box doesn't just juice up your depleted iPhone though. It's armed with Bluetooth speakers, a noise canceling mic for speaker and voice commands, an LED display, a USB port, and it can turn your music into a light show with the LEDs under the box.
Glowdeck launched as a Kickstarter project just a few days ago and has already passed its funding goal. They're aiming to ship units this August with the black Glowdeck running $195 while the gorgeous cheery wood unit will cost you $250.
Henge Docks Horizontal Station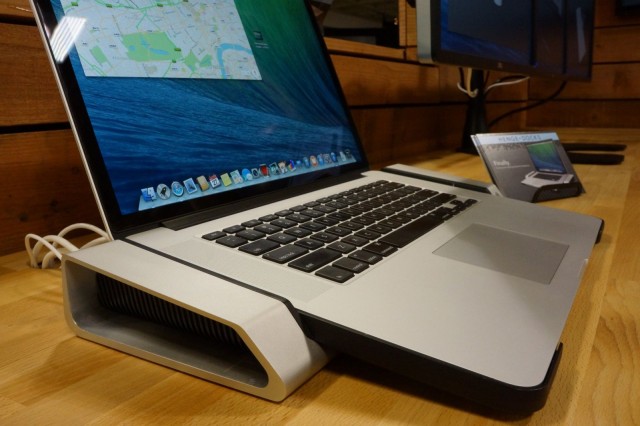 Henge Docks had a seriously cool MacBook dock on display. The Horizontal Docking Station's metal chassis hugs the MacBook and offers more plugs than you could dream of. Plus it's great for eliminating cord clutter.
There's support for a Kensington lock in the back. The dock can power up to three external displays, and your windows are saved and automatically adjusted when you dock and undock.
OlloClip for iPad
Olloclip has been knocking it out of the park with its arsenal of iPhone lenses, but now it's ready for a bigger screen with the Olloclip iPad lens. It's identical to Olloclip's iPhone 4-in-1, with a fisheye, wide-angle, 10x and 5x macro lenses. It will only fit the iPad Air and Retina Mini (the regular Mini is slightly thicker).
Olloclip CEO Patrick O'Neill said lots of iPad users take photos and video with their devices, especially video. "The big screen is great for framing," he said.
However, the company was always nervous about the etiquette implications. They didn't want to be responsible for iPad owners holding up their tablets at events and blocking other people's views. "We didn't want to be the brand that got blamed for that." So don't get too photo crazy at the next concert with your iPad.