Companies like Apple using specially commissioned shuttle buses to ferry employees back and forth from San Francisco have caused their fair share of problems in the past.
Wanting to find out just how often the buses traveled past his house, Wired writer Kevin Poulsen recently decided to start monitoring the local Wi-Fi environment to see how often the Wi-Fi equipped buses registered. He also spoke to executives from https://www.limofind.com/ on how often they charter their buses along that way.
Poulsen writes:
"My home happens to be placed along one of Apple's commuter bus lines, and the giant, silver buses have long felt like a constant presence on the residential street, powering up and down the hill, plowing past my window, honking a polite warning as they pass while I double-park to unload groceries. Apple workers have seen me in pajamas, stepping outside to get the paper or throw a dirty diaper in the trash. They've seen me chasing my kids into the car for the morning for the ride to school. In the evening the Apple Bus sometimes sees me waiting in my car for it to pass, so I can open the door without losing it to the bus's grill."
According to one week of "reverse-wardriving" Poulsen determines that the Apple Bus passes his house on average of 36 times per day.
A few other interesting details emerge from the story — cementing the image of Apple as a company so detail-fixated that even its buses live up to the Apple mantra.
For one thing, like Apple shipping dates and customer service, the buses tend to be extremely punctual — with the first bus of the day popping up punctually on Poulsen's radar between 6:23:33 and 6:23:56 in the morning. (The last bus registers at around 10.15 at night.)
Unlike the eBay and Google buses the Apple Bus is also notably anonymous: with no sign or logo indicating that they belong to Apple. Where eBay's Wi-Fi network is called "eBay Bus" and Google's "GBUS," Apple's opts simply for "CommuteWiFi."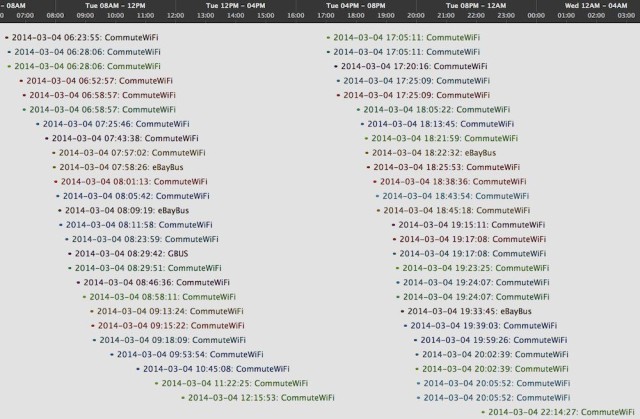 The only ways Poulsen knows that the buses belong to Apple at all is because of unofficial maps in circulation showing which companies operate on which streets, as well as positively ID'ing several Apple employees and then linking them to the company on LinkedIn.
Earlier this year tech companies (Apple included) had to agree to pay $1 per stop, per day for employee shuttle buses using public bus stops in San Francisco — thanks to a new pilot program approved by the San Francisco Municipal Transportation Agency (SFMTA).
Source: Wired