Apple is by far the most secretive company in tech, so predicting its next move or the specifics of its next big thing is incredibly difficult. No one in Cupertino will leak this kind of information, so analysts and investors are forced to look a little further afield for scraps.
They usually turn to Apple's supply chain — the people who are in some way involved with the production of its upcoming products. Sometimes this yields successful results, but other times, it results in some pretty crazy rumors.
Like every other year, there have been many memorable ones throughout 2013, so we thought it might be fun to look back at some of them. Here's our roundup of the craziest Apple rumors from the last 12 months.
"iRing"
Let's start with my personal favorite. Back in April, Topeka Capital Markets analyst Brian White brought us his latest predictions for Apple's widely-rumored "iTV" television, based on information he had gathered from supply chain sources in China.
White claimed that the set would be controlled with motion gestures using a device you would wear on your finger called the "iRing."
"The interaction between 'iTV' and making phone calls will be an important feature of this experience, while the 'iWatch' and 'iRing' will provide increased mobility around the home, supplanting the need to carry a smartphone around the house," White wrote in his note to investors.
White also claimed that the iTV would ship in 2013 with an included "mini iTV" with a 9.7-inch display (iPad?) that would allow users to view their iTV content in other rooms around their home.
4K "iPad Pro"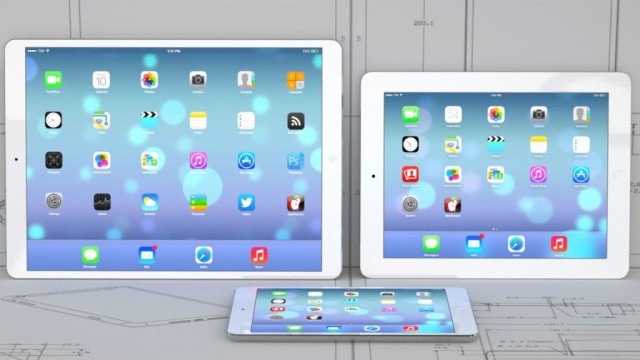 While it's reasonable to think that Apple might be preparing an iPad Pro (why else would it rename the regular iPad the iPad Air?) it's not reasonable to expect it to come with a 12.9-inch 4K display. But a recent report from The Korea Times, quoting an anonymous source with information about Apple's plans, that's exactly what we'll get next October.
4K displays are insanely expensive right now, and the time it takes to produce them is only going to increase when you attempt to pack all of those pixels into a 12.9-inch panel. So the cost of putting one in an iPad makes no sense whatsoever — at least not for the foreseeable future. Even if Apple could do it, no one would be able to afford one.
Furthermore, the higher the display's resolution, the more power it consumes — that's why 1080p smartphones require bigger batteries. Unless the iPad Pro is substantially thicker than its siblings, a 4K display is likely to tear through its battery in just a few hours.
4.8-Inch "iPhone Math"
Back in January, sources for China Times claimed Apple would release another iPhone alongside the iPhone 5s this year, but they certainly did not predict the iPhone 5c. They expected the new device to be called the "iPhone Math," and they said it would carry a larger 4.8-inch display and launch in June.
While we may see a larger iPhone next year, it always looked highly unlikely that Apple would launch a completely new iPhone just 12 months after revamping the handset's design for the iPhone 5. And there's no way it's ever going to be called the iPhone Math, because, well… that's just stupid.
On top of that, China Times claimed that a third iPhone, equipped with a 12-megapixel rear-facing camera, would arrive later in the year.
Apple To Acquire Microsoft
With over $100 billion sat in the bank, Apple could just about acquire any company it wanted, but some of its rumored acquisitions over the past 12 months make zero sense. For example, earlier this month, Money Map Press analyst Keith Fitz-Gerald predicted that Apple could buyout long-time rival Microsoft within the next 5-10 years.
Fitz-Gerald feels that in an effort to counter a potential threat from Google (Android) and Facebook, Apple could merge with Microsoft and turn two consumer tech giants into one. He told Yahoo! News that "now content and security is king and having all the devices connected to one is the future," an Apple and Microsoft merger makes sense.
Admittely this one was pure speculation on Fitz-Gerald's part, but aren't they all?
Apple Pays EA For iOS Exclusive
Apple's App Store is the largest and most successful digital software store ever, and since its inception in 2008, it's paid over $10 billion to app developers. It certainly doesn't need to convince anyone to release their latest title on iOS before bringing it to Android, then.
But back in September, EA label head Frank Gibeau claimed during an internal meeting that Apple handed over "a truckload of money" to persuade EA to delay Plants vs. Zombies 2 for Android and launch the much-anticipated title on iOS first.
Apple doesn't do that kind of thing — it doesn't need to — so it was no surprise to see the company shoot down the rumor shortly after it started making its way around the web.
Budget iPhone
Apple did release a cheaper iPhone this year, but it certainly wasn't the low-cost device many analysts led us to expect. Jefferies analyst Peter Misek told us back in July that the device would cost as little as $300 off-contract, while others claimed it would be called the "iPhone mini" and would ship with Qualcomm's entry-level and midrange smartphone processors.
Pretty much everyone in the industry expected Apple to launch a cheaper device for emerging markets that could help it compete with low-cost Android-powered devices from rivals like Samsung.
As it turns out, Apple's "budget" iPhone costs $549 off-contract — just $100 less than the iPhone 5s — and it certainly isn't aimed at emerging markets. What's more, Apple SVP Phil Schiller reportedly told a Chinese newspaper that budget devices would "never be the future of Apple products."