LAS VEGAS, CES 2013 – Moshi's bag is pretty simple. They aren't the first accessory makers to enter a space, but when they do enter it, they try to do it with a certain degree of zen-like style. So we were interested in what Moshi had cooking when we stopped by their booth at Showstoppers. After an aborted attempt to try to get us to write up a really long HDMI cable, the cream bubbled up to the surface: the entry-level Mythro aluminum earbuds and the Ionbank 10K. And we were also, shallow as it is to say, pretty impressed with their aluminum Lightning cable.
The new Mythros are a stylish set of aluminum, canal-fit earbuds that are aimed at those listeners who want something more comfortable and soundblocking to wear than the EarPods. Moshi claims that these earbuds feature new "burn-in" technology to make the sound and perform optimally from their first use, but this sounds a bit like marketing huju. However, for $30 earbuds, the Dr8 neodynium drivers sound great, the mic support is well appreciated, the bass is promised to be meaningful without being muddy, and hey, they are named after the precious metal mithril from the Lord of the Rings trilogy. They are available in gunmetal gray, jet silver, tyrian purple, satin gold, rose pink, and burgundy red, and will go on sale next month.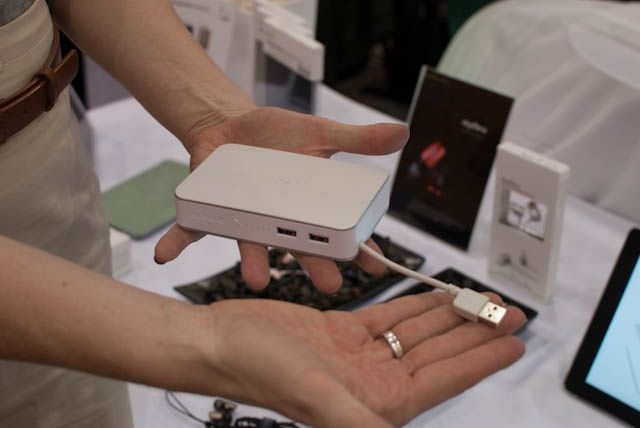 Next up, the Ionbank 10K. Battery packs are a new space for Moshi, and they are conducting their entry with class. It's an iPod white and Ive-approved aluminum case with a slider mechanism that locks the cord away. Two beefy USB 3 ports allow you to charge all your gadgets quickly, and while 10,000mAh is only good enough to recharge a third or fourth gen iPad to full once, it'll recharge an iPhone 4-5 times and an iPad 2 about three times. The price isn't bad, either: about $100 when it's released in late Q2 or early Q3.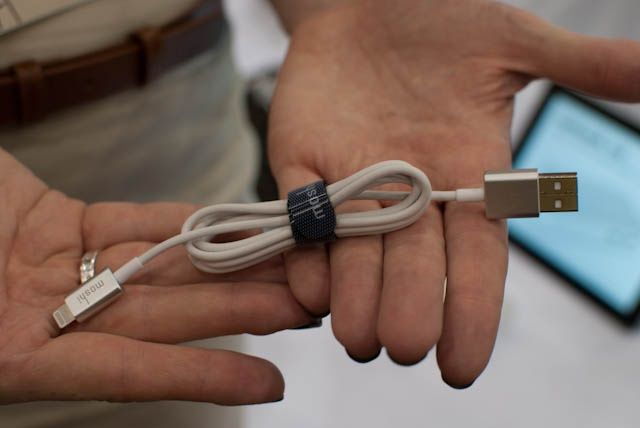 Finally, hey, there's this aluminum Lightning cable. A hell of a lot cuter than Apple's, does a great job of matching the MagSafe aesthetic, and only $20. They'll start selling in March.