Happy Thanksgiving! This year to observe the holiday we asked each of our writers to tell us a bit about the things they are most thankful for in 2012: specifically, the Apple product, app, service, third-party accessory and person they most relied upon and were grateful for this year. All through the rest of the day, we'll be posting these thanksgiving observances. Here's Cult of Mac News Writer Alex Heath's list of the things he's most thankful for this year. You can find the rest of our Thanksgiving Smorgasbord entries here.
Thanksgiving has rolled around, which means that I stuff my face with delicious grub until the cows come home. It's also a time to be thankful, and after pondering on this past year, here's what I appreciate most in the 2012 Apple scene:
Person: Jony Ive
In the midst of all the changes in Apple's executive regime, Jony Ive has remained the constant factor. Now that he's the head of all product design at Apple, I'm thankful that someone with superb taste is calling the shots. Less of Scott Forstall's skeuomorphism, and more clean, minimal, unified design choices.
Jony Ive was a dear friend of Steve Jobs and he has overseen many of the company's most successful products. There's no better person to be considered the heart of Apple at this point, and that's something to be thankful for.
App: Spotify
I signed up for Spotify Premium this year, and it has changed the way I discover and listen to music. I don't feel the need to pirate new music anymore because I can stream as much as I want right when it comes out. If I hear a song I like, I can instantly look it up on my iPhone and listen to it all the way through.
I've discovered more new music in 2012 than any other year, and I attribute that to Spotify. It's great for listening to music with friends in the car, and it feels like having a huge jukebox at your fingertips. Spotify isn't perfect, but I still love it. Rock on.
Service: iMessage
iMessage gets a lot of hate, and rightfully so. It feels like it's down more than it's actually running properly. But I still have to give Apple credit. iMessage has changed the way I communicate on a daily basis. With the introduction of Messages on the Mac and iPad, I can text someone from my Mac, continue the conversation on my iPad, and then take it with me on my iPhone. When it does work, it's seamless. That's amazing, and I only hope that Apple continues to iron out the kinks and make iMessage more reliable in 2013.
Apple Product: EarPods
You probably expected me to say something like the iPhone 5 or iPad mini, but I honestly think that the EarPods don't get enough credit. Apple released an absolutely fantastic set of earbuds this year, and I couldn't be happier with them.
For years I've been buying $200+ Shure in-ear earphones because I was never satisfied with what Apple sold. Now the EarPods are all I use when I'm not using big, cushy headphones at my desk. EarPods are portable, and the mic/volume controls make the experience even better. For $30, you can't beat these things. Thanks for saving me money that I would otherwise spend on high-end earphones, Apple.
Third-Party Accessory: Griffin Elevator Stand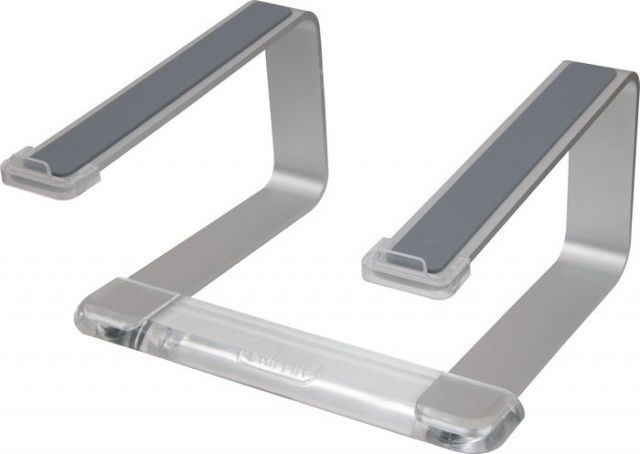 I sit in front of my MacBook Pro a lot. After awhile, one tends to get worried about posture. I try to make sure I'm not staring down at a computer screen all day, and Griffin's Elevator Stand helps me do that. It's simple, portable, minimal, and only costs $40 in the Apple Store.
My resolution for 2013: to get a standing desk.