Here's an interesting idea: Take a thoughtfully designed, well-rounded, high-tech Bluetooth headset and mate it to a dedicated iPhone app (called EarPrint) with a boatload of mostly useful functions, and — voila, the dazzling result would look exactly like the Sound ID 510 Bluetooth headset ($129).
The Good:
Sound ID does something a little odd with its eartips; except for a single foam tip (that really needs to be worn with the earhook installed) the tips themselves are all the same size — but the loop sizes vary dramatically. I'll admit, it looked pretty sketchy to me initially. But the Sound ID designers must've done their homework, because the 510 is one of the most (or maybe the most) comfortable headset I've used. The headset doesn't require jamming into the ear to stay put, yet does so anyway, in large part because of those loops. The 510 can be worn very comfortably, for long periods, without having to constantly fiddle to adjust it, and it even stayed put with a little vigorous movement (like jogging) thrown it. One note though: the tips' ends do protrude into the ear a bit.
Sound at both ends was good to very good. Most of the time, testers said they could hear me well. Incoming sound was very clear, and the volume can be adjusted to levels that sound more than loud enough. Most interestingly, sound quality can be adjusted through use of the app — more about that later.
Noise-cancelling was above average; listeners said they could understand me, for instance, outside a busy Starbucks without trouble. The headset seemed better at canceling noise the farther away I was from the source though. The real surprise came when wind entered the picture: The 510 performed as well — or better — than any other headset I've used when the wind kicked up.
Another pleasant surprise was how quiet the 510 became when no sound was being transmitted. in several conversations, it was so quiet I had to ask people on the other end if they were still there — very unusual for a Bluetooth headset.
A big selling point of the 510 is its EarPrint app. Some of the features are fluff — the toggle that turns on the headset's pass-through mode, allowing ambient sound to enter through the headset, is pointless as the headset doesn't block ambient sound anyway because it doesn't need to be stuffed into the ear canal. But some of the features are genuinely useful: A button that'll set off loud beeps from the headset so you can find it if misplaced, a toggle to activate the LED indicator and a battery indicator (though we'd prefer one on the iPhone's home screen). Then there's also a screen that allows the user to customize the quality of incoming sound via a grid; there's not a lot of range, but it does make a difference.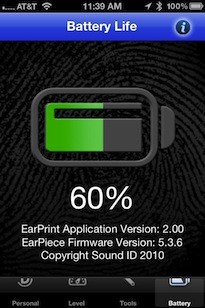 Both usable range and battery life were good, at about 20 feet and just over five hours respectively.
As one expects of a headset at this level, it comes with A2DP for streaming music and multi-point technology that allows connecting simultaneously to two devices and allows switching between them on the fly.
The Bad:
For the most part, the 510's ergonomics and aesthetics are smart, if conservative — except the volume touch slider. I'm perplexed that product designers keep including this ridiculous technology when designing gadgets; it's simply never worked right in any product I've tried — including the 510. The swiping action works most of the time, but it's awkward, slow and frustrating when it doesn't.
Our test unit's grill (the one that protects the headset's three microphones) had a small blip where the surface wasn't completely flat, probably occurring during assembly. It's a minor cosmetic flaw, and likely a rare aberration, but we thought it worth mentioning — especially for such an expensive piece of hardware.
Verdict:
Yes, its MSRP is a little pricy — but the Sound ID 510 is the best all-rounder we've tested this week. Good sound on both ends, solid noise-canceling ability, great comfort and nifty-yet-useful (mostly) features make for a superb headset and a stress-free pleasure to use.
[xrr rating=80%]
This is Primo Bluetooth Headset Week, and we'll be test driving all the high-end Bluetooth headsets we can lay our hands on.