"line is around the block" — Paul Arrington in Charlestown, SC.
"Hmmm, I wonder what these could be?!?" — Joey Egan at Apple Flagship Store in San Francisco.
"Its crazy how many ppl r standing in line 4 the new iPad," tweets Tracie Cooke-Wilkes from the Oxmoor Mall in Louisville, Kentucky.
Here are some more pictures from around the U.S.:
Send your own to news@cultofmac.com and we'll post them up.
"Apple Store Mall of America Line " — Branden Flasch in Minnesota.
The scene outside the Apple Store 5th Ave. in New York. Link.
"Holy mobscene infront of the #applestore for the #ipad2" — Bernice Denehan in New York.
"Apple gave out free umbrellas" — Mark Pavlidis at Apple Store, Fifth Avenue.
"Current line at #AppleStore of the #iPad2. Smh but I'm here lol!" — Steven Smith, DaBawwsss, in Houston, Tx.
"Couple hundred deep waiting till 5pm at the SF #applestore waiting for the #ipad2" — Erik Eccles in San Francisco.
"Waiting in line at the #Apple store for #iPad2 #technerd" — Brandon Wells
"If there is ANY doubt… Yeah… Y'all r crazy!!!" — TheKidturnedMas in Minnesota.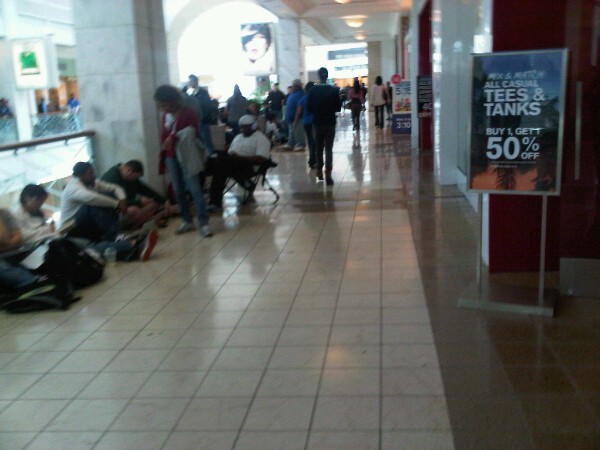 "Line outside the Apple store via Lenox" — Ashley Hendrick
"Waiting @ apple store, shadyside, pa for the 5:00 release of iPad 2" — Brett Tomich in Pennsylvania.
"Black curtains are going up at the Apple store" — Mike Paschall in Raleigh, NC.
"Waiting in line #ipad2" — Jason M Gutierrez in Chandler, AZ.
"They serve you coffee while waiting in line for the #iPad2 cool!" — Matthew Oatts
"line for #ipad2 at Lehigh Valley Mall in Allentown,PA (apple store all the way on the right)" — Jordan McCollough in Allentown, PA.
"Number 19 in line for #iPad2" — Heather @MACprogirly in St. Louis.
"Cerritos Mall, 1:20pm, est 130+ for line" — John Larson in Cerritos, CA.