If you love Bees, Hedghogs, Cats, Sushi and Dungeons you're going to get hooked up with our App Code giveaway on Facebook this week! We'll pick five random winners to win 6 great apps and if you want a chance to get your hands on some these iPhone and iPad apps this week, then follow the instructions carefully below:
Post a tip on our Facebook wall. The tip can be anything related to Apple/Mac or it can be a suggestion for an app that you'd like us to review.
Your post on our wall will be your entry into the giveaway, only ONE entry is allowed per person, and the giveaway will last until 11:59pm PST  tonight. We'll contact the winners on Wednesday about how to get the codes!
Optional step – Tell us what you think about these apps if you own them already in the comments section.
Special Thanks to Appular for helping us put together these app code giveaways! If you've got a mobile app that you'd like marketed effectively, contact the good folks at Appular!
Here's a look at the apps we're giving away: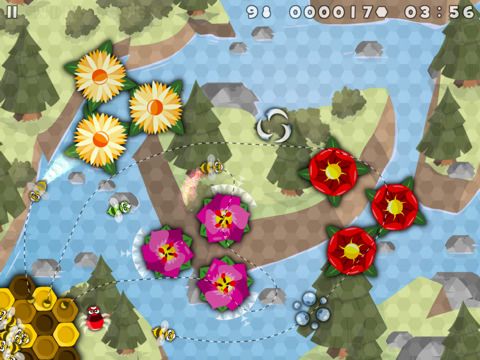 Put yourself in control of creating flight paths for one of mother nature's top aeronauts: bumble bees. Your mission is to flourish the colony. You can race against time, or fight for survival! Experience what it's like to live a day in the life of these striped stingers. How good are you at managing to keep your bees and flowers alive? Use strategy and tactical decisions to wisely navigate your cast of colorful characters, in a race against the clock or battle for survival, to make honey, keep flowers blooming, and avoid obstacles. Explore the Marvelous Meadow, Impressive Island, or Majestic Mountain colony on your way to the top of the ranks.
Get in shape with the most popular beginner's running plan. Couch to 5K has been helping thousands of people ease into running and incrementally build up their running strength in just 9 weeks. This app gives you audio prompts every time you need to change from running to walking according to the C25K plan. You can listen to your music and enjoy your workout without constantly looking at your stopwatch.
The addictive and lovable blue cat and his pink companion have gone on their honeymoon. Little does Sushi Cat know, but his dream vacation is about to get abruptly interrupted. Help Sushi Cat out by guiding him to as much sushi as possible. Watch him grow fat as he eats more and more sushi along his way. Fill up his belly to win.
The long-awaited sequel to Word Solitaire has finally arrived! Look northwards and to the stars for a dazzling display of word creation and traditional solitaire!  Drag letters onto each other to arrange them into words. Flip over cards to expose more letters and complete the level by using all provided letters in the creation of words. A 250-Level "Campaign" will keep you hooked for months! There's high-resolution Retina graphics and full Game Center support with a comprehensive tutorial will help you pick up the game in minutes! Compete against users around the world on the daily puzzle or configure a game with your own settings in Quick Play mode!
Deep Deep Dungeon is a casual dungeon crawl with a style. You are a funky warrior of choice, in a funky deep dungeon. And you fight with expert timing! The game will be so addictive that you can try to check out anytime you like, but you can never leave!
Step into a randomly generated dungeon, filled with monsters and gold!
Launch your hedgehog into space in as few days as possible. Earn money by bouncing off platforms and hitting coins to buy upgrades. The higher and longer you go the more cash bonus you'll get!