Apple's new iPhoto '11 is here and it will continue to be the best part of my iLife. I'd like to think that many of you would agree with me. The new features that Apple announced on Wednesday are really awesome.
The new full-screen views, enhanced Facebook integration, and other new or improved features give me opportunities to be more creative. I'll be able to share photos with family and friends in ways I wasn't able to before and I cannot wait to get started.
Events
The new full-screen Event view is great and it was here that I began to see some iOS elements in iPhoto '11. The toolbar at the bottom of this screen shot and subsequently others in this review have iOS written all over them.
Faces
See more of your favorite faces with the full-screen view of the faces in your iPhoto library. The more I used this view the more I liked it. On my 24″ iMac it was stellar. This might be another reason, errr excuse,  to look at the 27″ iMac.
Places
The full-screen view for places was great — if you're a globe-trotter. See the world! Nice, but I was a little more interested in my corner of the world. Lucky for me the zoom feature saved the day. I was back home in Texas before I knew it.
Albums
Photo Albums now have stacks! It's about time for the Mac to get a feature I've been using on my iPad since April. Well done for the most part, but I hoped that this interface would use my Magic Trackpad a little better. Unfortunately there wasn't a whole lot to gesture about. I hope that Apple fixes that one of these days.
Project Bookshelf
The project bookshelf has some of the best eye candy in iPhoto '11 and while I crowed about the full-screen views this simply stole the prize. I like the concept of seeing the cards and books I've designed ready-to-go for another print run whenever I'm ready. I'm well-known as a greeting card designer in some circles and now I have a way to showcase my work. Chaaa-chinggg! More money in the bank for me. The eye candy will definitely help me makes more sales!
Photo Editing
The integrated photo editor has enough of the basics you need to fix your photos. Red-eye reduction. Special effects, etc. Get creative and be the next Ansel Adams. My Dad finds this an easy place to go for his photo editing needs and I do to, but I still grab Photoshop occasionally to help with more advanced ideas I might have.
Facebook Integration
Facebook integration has been here, but now it is a whole lot better. Let me repeat that — a whoooole lot better. You get easy access to your photo albums, creating new ones is a breeze, and you can change your profile picture. Need to tag someone in a picture it's easy to do from inside of iPhoto. You can even track all your Facebook photos or post one on your wall. Considering the popularity of Facebook this is just great — I  hope Steve Jobs has dinner with Zuckerberg more often.
Books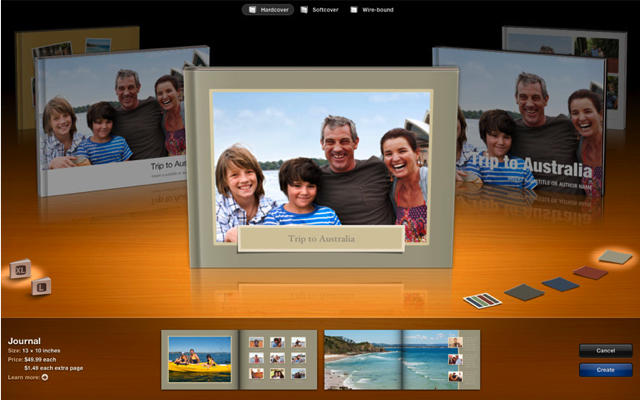 The ability to make photo album books in iPhoto has improved with the addition of new themes and a new look. iPhoto will use its Autoflow feature to create your book automatically using various criteria. Afterwards, you can customize your book using the book and page layout features. Save your book project and find it later in the Projects view above.
Slideshows
I'm not a big fan of slideshows, but if you are then iPhoto has something else to offer you. There are new themes and music to go with them. iPhoto helps you build the slideshows and it does some of the work for you. It uses face detection to center shots, etc. I experimented with this feature some and I can appreciate it, but I'm more interested in producing more tangible things like books, cards, or Facebook photo albums.
Cards
As I mentioned earlier I'm pretty good at greeting card designs — especially ones with a sense of humor. Apple's approach wasn't to make people laugh, since their designs could be called elegant and far from funny. There wasn't a whole lot of space on any of these cards for the Viagra images we used once for someone's 60th birthday party. Unfortunately Apple did not provide a blank card to use to build a card completely from scratch so I may be reaching for Photoshop or Illustrator again.
Email
The last feature of iPhoto '11 that caught my eye was emailing photos. It is actually pretty neat, but I'm not sure if I'll be using it all that much. It is lot easier for me to just drag my photos to an email and send them on their way as attachments. However, iPhoto takes this a step further by giving you formatted templates you can use to send your photos with via email. Now they will look pretty when they arrive at their destination versus looking like — well a pile of attachments. This feature works with all popular email services like MobileMe, Gmail, Yahoo! Mail, Windows Live Hotmail, and AOL. You can even recycle previously sent messages as is or with revisions to new recipients.
Conclusion
The need to upgrade to iPhoto '11 is a no brainer for any creative Mac user.  However, even the non-creative Mac user can appreciate at it as a place to store and mange their photos.  iPhoto '11 has something to offer everyone. The cost to upgrade is only $49.00 making this a reasonably priced upgrade since it also includes the rest of the iLife application suite. I hope you'll agree that iPhoto '11 will definitely be the best part of our iLife for a long time. It will be for me.