Finding a decent set of headphones or earbuds that doesn't cost the earth has always been a challenge. You either have to sacrifice on quality to fit your budget, or re-mortgage your house to find that 'perfect' sound.

With a maximum budget of $300, I set out to see how much sound you can get for your money at this mid- to high-level.

I picked 3 units for the review, the Shure SRH750DJ over ear monitors, Beats Solo HD on ear by Monster and Shure's SE315 in-ear buds. They are priced at $220, $229 and $300 respectively. Before I start, I know a lot of you will be saying that you don't need to spend anywhere near this for a decent set of cans, and I agree to a certain extent.

For everyday use you can spend $100 on headphones and be perfectly happy; but I don't want happy, I want ecstatic. I want to feel as if I am sitting in front of the artist as they are recording, feeling every beat, hearing every subtle nuance in the sound.

With my high standards set, can any of these units deliver the sound I am after? I have assessed each product on four points; design, comfort, sound and value.

Shure SRH750DJ Over Ear Monitors – $220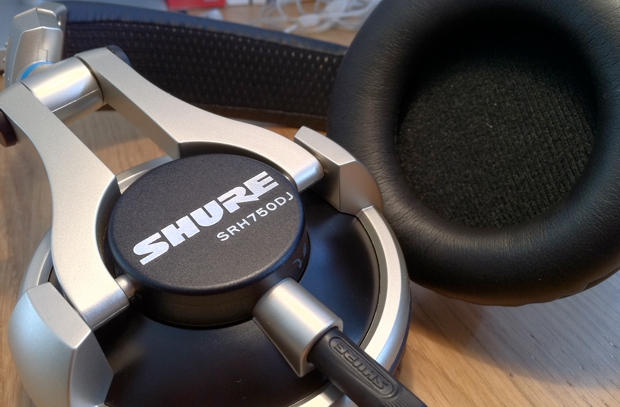 Design
The SRH750DJ is an over ear model, meaning that you get a nice tight sound lock, the headphones are constructed completely from plastic and though they are the cheapest model in this review, I would still like to have seen a hint of chrome or aluminium. The cord is detachable which makes for easy transport and the cans themselves fold in for compact storage. The pads are made of a leatherette material as is the head band cushion. Overall the design is a little disappointing, it serves a purpose, but that is all.
Comfort
95% of the time the music in my office is not to my taste so I often find myself wearing headphones for 5-6 hours a day. Having a comfortable pair is almost as important as having a great sound. The 750's perform fairly well in this department. They are snug around the ears, adjustable to fit even the longest head and they are light for a set of this size.
I do find after wearing them for an hour or so, you begin to get slight neck ache. I believe this is due mainly to an imbalance in the weight distribution. Because of their predominantly plastic design, they can get a bit creaky too.
Sound
So now onto the main point, sound quality. The 750's are a closed back design with 50mm drivers and a frequency range of 5Hz -30kHz. In testing, I found they gave a fairly good sound overall, being particularly punchy in the low-end. The high's are crisp and clear and the overall immersion effect was fairly good. They do not have active noise cancelling, but due to their over ear nature, do a fair job at stopping any unwanted noise getting in. Overall A decent performance.
Value
At $220 these are not cheap headphones and as such you expect certain levels of quality. The plastic design and weird balance were enough to put me off. Don't get me wrong, there are some good points. The sound is great and the inclusion of extra pads and adaptable gold-plated jack is a nice touch. I just think there are better headphones out there for the money. They are good but at this price point you can do better.
[xrr rating=50%]
Monster Beats Solo HD on ear Headphones – $229
Design
If this review was based solely on looks, the Beats Solo's would win hands down. They are a really lovely product. From the well-made, thick red cable, to the brushed aluminium logo – a lot of care and attention has been put into the style of these headphones. They have the perfect ratio of plastic to metal. You get the choice of two cables: one with Control Talk (iPhone controls); and one without. The cord is detachable and the whole ensemble folds up nicely in a little neoprene case. A good job well done.
Comfort
The Beat's are a very comfortable pair of headphones. They are on ear, so literally just rest on your ears instead of around them (think original Walkman headphones). You barely notice the headband when you are wearing them and they are light as a feather, whilst retaining a quality feel. The pads are faux leather and feel like pillows on your ears.
Sound
So far the Solo's have delivered extremely well on both design and comfort, and they are not let down by the sound quality either. Let me quantify that statement. If I was in the studio looking for the most accurate representation of sound, then the Beats would not be the headphones I would choose. However, in the office, on the train or walking about town, these headphones deliver the perfect balance of bass and detail I was looking for. The top end is a little muddy if I'm honest – but on the whole I was impressed.
Value
At $229 the Beats Solo's are not an impulse buy, but if you are going to spend this sort of money on headphones then you could do a lot worse than Monster's offering.
[xrr rating=90%]
Shure SE315 in-ear buds – $300
Design
As the saying goes – good things come in small packages. This is certainly true for the SE315's. The drive units are encased in transparent moulded plastic, allowing you to see in great detail the quality of work that has gone into creating these little guys.
Every thought has gone into the small details of the design of the SE315's. The buds detach from the cables, which is great as the most common damage to earphones is in the cord. It means that a break won't cost you the earth as you just replace the cable. The cord is one of the nicest I've seen in any product. It is solid but still flexible and has a woven exterior which should protect from any fraying or tears.
Due to their size, the design features of the 315's are not as readily apparent as Monster's unit, but it is this understated style that really sets them apart in a market saturated with low quality materials.
Comfort
I should preface this section of the review by saying that I really don't get on well with in-ear headphones. I don't think I have particularly freakish ears, but I have always struggled to find a well-fitting in ear product. Until now that is…
The SE315's do take some getting used to. They have an over-ear design, so rather than just popping them in your ears you have to get into a routine of looping them and getting it just right. I was infuriated by this for the first couple of days and my initial try took about 15 minutes. However this seemed to be down to user error rather than bad product design. Shure provides a plethora of ear buds to suit every ear shape and personal preference. The ones I found worked the best were the rubber moulded ones shown in the picture above.
In-ear headphones aren't for everyone, but if you are looking for buds rather than over earphones – these are some of the best-fitting I have found.
Sound
As I have previously said, sound is the most important choice in any set of headphones. The SE315's are superb. They pack a frequency range of 22Hz – 18.5kHz. The sound is the best I have heard from any sound device. The bass is deep and the top end rings out. You really do feel as if you are sitting next to the performer. I tested the units on a selection of tracks and they performed well in all genres. The second trick to these little gems is their noise-cancelling ability. Due to their in-ear nature, when playing music you hear only that. At one point I had two phones ringing on my desk and didn't hear a thing — except the track I was listening to.
From a sound perspective these earphones win every time. I really can't rate them highly enough.
Value
The Shure SE315's are the priciest of the headphones I reviewed, coming in at $300. If quality sound is what you are looking for, then these are the headphones for you. There is something beautiful about listening to them, almost like hearing a track live for the first time. That said $300 is a lot of money for a lump of plastic and metal on a string. Though I haven't tested all the headphones out there – I would stick my neck on the line to say that these are the best quality you can find in this price bracket.
[xrr rating=90%]
Wrap Up
All the headphones I have reviewed here deliver a great performance. Some deliver better on sound while others win on the design and comfort stakes. It is a very hard decision to pick a favourite out of these three, so I won't. Instead I would say this – If you want over ear headphones for every day use, the Beats Solo HD are brilliant. If you want pro level sound and have the extra $70, get the SE315's.