This post is presented by HideMy.name VPN.
For all the regulations and constraints creeping onto the internet, it remains a pretty wild place. You can still find almost any information you want (unless you're in a blocked country). And if you're not careful, someone else can access your personal information in a flash.
One of the best ways to keep your identity secure is to sign on with a virtual private network, or VPN. Through a process called "tunneling," VPNs pass user data through a network of servers that encrypt it and obscure its source. When used properly, nobody can see the sites you visit or the data that's transferred. Plus, you can easily bypass pesky location-based restrictions.
So why don't more people use VPNs? One reason is fear of complications. Remembering passwords is hard enough without having to dig digital tunnels or whatever. But using a VPN really is simple.
Take HideMy.name for example. After signing up for a low-cost monthly service, Mac users can download the lightweight VPN app and enter the code the developers send. A small window will offer the option to engage the VPN, along with a tool for selecting the country you'd like your activity to look like it's coming from.
That's it. As long as you're subscribed to HideMy.name, you can be protected on five devices at once.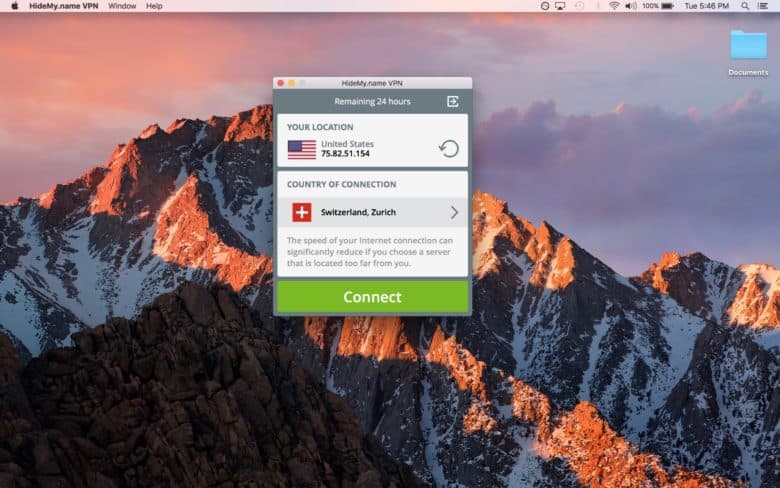 VPNs are a no-brainer
For anyone on the fence about using a VPN, let's run down some of the reasons to do it.
First of all, you can gain some real benefits from choosing the country your online activity comes through. That includes accessing geo-restricted content on sites like YouTube and Netflix, and getting in on region-specific deals on sites like Amazon or Apple Music.
VPNs also offer a way to stay anonymous. Use a VPN, and the data you transfer is encrypted. Your IP address gets masked, too, so your personal activity doesn't become someone else's commodity.
Whether it's an identity thief or your boss at work, your online business remains your business and no one else's.
All of this is true whether you're on a private network or on the public Wi-Fi at your favorite coffee shop. Unencrypted activity is incredibly easy to hoover up, along with all the sensitive information you might be transmitting: passwords, credit card numbers, personal conversations, etc.
Additionally, using a VPN offers high-tech protection without the need for high-tech skills. A good service will operate at normal speed, so all your content is available as usual. And it will operate easily, on all platforms and multiple devices, with no traffic restrictions.
So why not start using a VPN today? With a service like HideMy.name, you can connect on five devices for as little as $3 a month. It's easy to be more secure online. You just have to make the choice.