If you didn't make it down to the SoCal desert this weekend for the massive Coachella music festival, fear not — most of the action is being streamed live on Youtube.
Fire it up on your Apple TV, and you can enjoy Jack White, The War on Drugs, Interpol, Clean Bandit, Tyler the Creator, Run the Jewels, alt-J, The Weeknd and tons more.
However, the YouTube streams are a bit tricky to find; as is a simple guide to what's being broadcast.
Here's how to find it, and the full webcast schedule by time: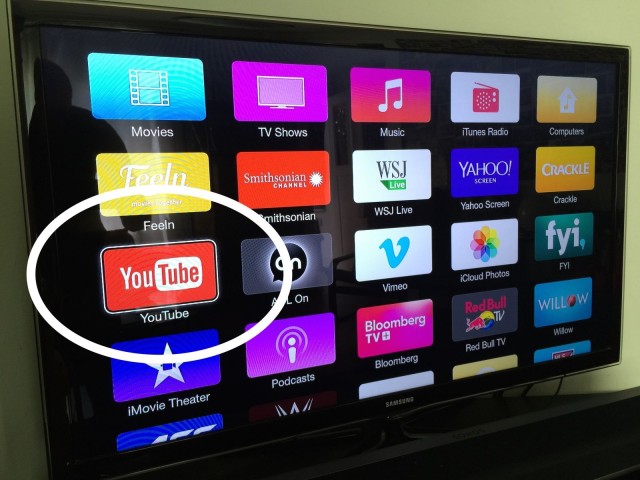 Jack White is headlining on Saturday and Drake (who's wearing a gold Apple Watch Edition and matching outfit) on Sunday. However, it appears Drake's set won't be available. Too bad.
But there's plenty more to watch. Below is the full schedule.
Coachella 2015 Live Webcast Channel 1
Saturday, April 11 lineup: Clean Bandit, Milky Chance, St. Paul and the Broken Bones, Hozier, Run the Jewels, Jason's World, alt-J, Jack White, Flosstradamus, Axwell and Ingrosso
Sunday, April 12 lineup: Circa Survive, Mac DeMarco, Marina and the Diamonds, Jason's World, Kaskade
Coachella 2015 Live Webcast Channel 2
Saturday, April 11: Royal Blood, Benjamin Booker, Toro y Moi, Yelle, Bad Religion, Glass Animals, Father John Misty, Jungle, Tyler, the Creator, FKA Twigs, The Weeknd, Antemasque
Sunday, April 12: MØ, Sturgill Simpson, St. Lucia, Tycho, Vance Joy, The Cribs, Stromae, St. Vincent, Fitz and the Tantrums, Panda Bear
Coachella 2015 Live Webcast Channel 3
Saturday, April 11: Parquet Courts, Lights, Perfume Genius, Chet Faker, Belle and Sebastian, Duke Dumont, Gramatik, Dirty South, Deorro, Ratatat
Sunday, April 12: The Orwells, RAC, What So Not, Martin Solevig, Madeon, New World Punx, David Guetta, Kygo, Jamie xx
Full streaming schedule by time
Saturday
3:35PM Royal Blood Channel 2
3:35PM Clean Bandit Channel 1
3:35PM Parquet Courts Channel 3
4:15PM Benjamin Booker Channel 2
4:15PM Lights Channel 3
4:40PM Milky Chance Channel 1
4:55PM Toro Y Moi Channel 2
5:00PM Perfume Genius Channel 3
5:30PM St. Paul & The Broken Bones Channel 1
5:40PM Chet Faker Channel 3
6:00PM Yelle Channel 2
6:15PM Hozier Channel 1
6:35PM Andrew Mcmahon In The Wilderness Channel 3
6:45PM Bad Religion Channel 2
7:05PM Run The Jewels Channel 1
7:25PM Belle & Sebastian Channel 3
7:35PM Glass Animals (Partial Set) Channel 2
8:00PM Father John Misty Channel 2
8:15PM Alt-J Channel 1
8:20PM Duke Dumont Channel 3
8:50PM Jungle Channel 2
9:15PM Jack White Channel 1
9:25PM Gramatik Channel 3
9:30PM Tyler, The Creator Channel 2
10:20PM Dirty South Channel 3
10:20PM Fka Twigs Channel 2
11:00PM Flosstradamus Channel 1
11:15PM Deorro Channel 3
11:25PM The Weeknd Channel 2
11:55PM Axwell Λ Ingrosso Channel 1
12:15PM Ratatat Channel 3
12:25PM Antemasque (Partial Set) Channel 2
Sunday
3:35PM Circa Survive Channel 1
3:35PM Mø Channel 2
3:35PM The Orwells Channel 3
4:10PM Rac Channel 3
4:20PM Sturgill Simpson Channel 2
4:30PM Mac Demarco Channel 1
5:00PM Panda Bear Channel 3
5:10PM St. Lucia Channel 2
5:35PM Jenny Lewis Channel 1
5:45PM What So Not Channel 3
6:00PM Tycho Channel 2
6:35PM Ryan Adams Channel 1
6:45PM Martin Solveig Channel 3
6:50PM Vance Joy Channel 2
7:25PM Marina & The Diamonds (Partial Set) Channel 1
7:40PM The Cribs Channel 2
7:45PM Madeon Channel 3
7:55PM Kaskade Channel 1
8:25PM Stromae Channel 2
8:45PM New World Punx Channel 3
8:50PM Florence + The Machine Channel 1
9:15PM St. Vincent Channel 2
9:45PM Gaslamp Killer Experience Channel 1
9:45PM David Guetta Channel 3
10:10PM Fitz & The Tantrums Channel 2
11:00PM Kygo (Partial Set) Channel 3
11:00PM Odesza Channel 2
11:30PM Jamie XX (Partial Set) Channel 3