If you're shopping for a new iPhone wallet case, you'll be hard pushed to find one as suave and as strongly-built as the Fulki Pocket for iPhone 5 and 5s. Handmade from thick, belt-grade Italian leather, it's the kind of case that'll still be looking good and going strong long after the iPhone you slip into it has died out.
Pocket by Fulki
Category: Cases
Works With: iPhone 5 & 5s
Price: €85
The Fulki Pocket is designed to provide your iPhone with protection from scratches, scrapes, and bumps at almost every angle. It also has a small pocket that'll carry your credit card or some cash, and the v-shaped cutout in its top edge will allow you to grip your iPhone with your thumb and forefinger when you're pulling it out of the case.
The Fulki Pocket is available in tan, coffee, and cognac colors, and it's priced at €85 ($116). It's pretty pricey, but it's worth it.
The Good
The Fulki Pocket's thick vegatable-tanned leather has a slight glossy finish like those fancy Italian shoes with slippery leather soles, and its edges are stitched together and burnished so that they're incredibly strong. When you hold this case in your hand for the first time, you feel like your €85 was well-spent.
Thanks to the Pocket's exceptional build quality, you'll never have to worry about it falling apart. I've been using mine almost every day since last November, and it's still as robust as the day I bought it. Admittedly I've taken pretty good care of it, but I'm almost certain that if I'd have thrown it around for two months I still wouldn't have had any problems.
My Pocket has picked up some scratches and scuffs, but like a lot of leather cases, it only looks better for it.
The Pocket's snug grip on your iPhone (more on this below) means that there's zero chance of your device slipping out accidentally. Mine has loosened up slightly over time — which you'd expect from a leather case — but I can still shake it pretty fiercely without my iPhone falling out.
The space at the front of the Pocket is ideal for carrying a credit card when you're nipping out, but I wouldn't recommend putting more than one in there. The thick leather makes the pocket pretty tight, and inserting more than one card makes them difficult to remove.
The Bad
The Pocket doesn't have any holes in its bottom edge, so your iPhone's volume is muffled even when it's turned right up. In addition to this, you won't have access to its headphone jack unless you put your iPhone into the case upside down.
That may not be an issue for you, but I didn't like having to hold onto my home button when pulling the iPhone out of the case — particularly when the case is new, because it's extraordinarily tight.
Slipping your iPhone into it is easy enough, but getting it out is a different story. I can't tell you how many calls I missed during the first few weeks because I literally couldn't get my iPhone out of the Pocket before my caller was sent to voicemail — and I'm not exaggerating.
The Pocket certainly becomes a little looser over time, but even after more than two months of use, mine still has a pretty firm grip on my iPhone.
The Verdict
Despite the lack of speaker holes and the absurdly tight fit, I still think the Fulki Pocket is a beautifully designed and wonderfully well-built iPhone wallet. I wish there was space for more cards and that it wasn't quite as tight, but I've been more than happy with this case.
It may be pricey at €85, but the Fulki Pocket will last for as long as you need it to, and you certainly won't be disappointed with your purchase.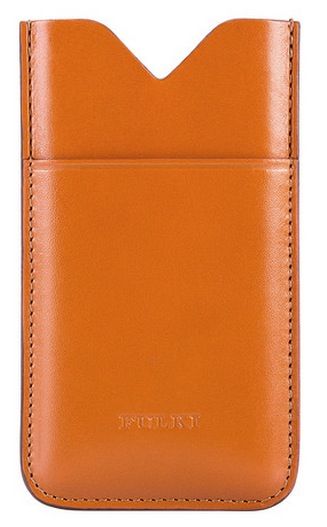 Product Name: Fulki Pocket
The Good: Handmade, wonderfully good-looking, and incredibly strong.
The Bad: A little too tight initially; no speaker holes.
The Verdict: Minor shortfalls, but certainly worth its price tag.
Buy from: Fulki
[rating=good]