Keeping to the straight and narrow often sucks: bloviating co-workers, passive- aggressive clients and hobbling back to the homestead to an empty fridge after a long day.
Still, it's not as bad as being in jail. Or arrested, for that matter.
Busted! Real Mugshots, offers some handy, much-needed schadenfreude for the working stiff, as per the description:
"Real people! Real Arrests! Real Mugshots!"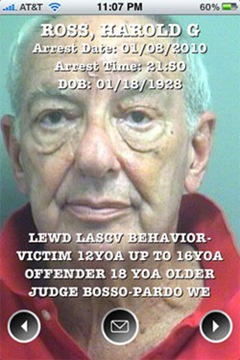 The iPhone app, gratis on iTunes, serves up police pics from around the US with full names, birthdate, age, arrest date/time of arrest as well as the offending crime. (At least in the first release, it doesn't give location and does not appear to be searchable).

It's an interesting pairing of public record and entrepreneurship — even though mugshots have long been public they've never been this mobile before.
Here's the itty-bitty disclaimer at the bottom of maker Fountain Dew's website:
This application is intended for informational purposes only. The photographs and information presented in this application are available from police department files.
The information does not reflect the criminal history or the criminal status of anyone. All people are innocent until proven otherwise in the legal system.
We've emailed for more details, will publish when we hear back…
Via Krapps