O2 U.K. has partnered with Evernote to give all of its customers a one-year Evernote Premium subscription for free. The offer applies to all business, pay monthly, pay-as-you-go, and mobile broadband customers, and it's available starting today.
To take advantage of the offer — which will save you £35 per year or £4 per month — simply visit the new "Evernote on O2" page on O2's website and enter your mobile number. You'll receive a promo code by text message, which can then be redeemed on the same page. Finally, sign up for an Evernote account or login to your existing one to active your free one-year subscription.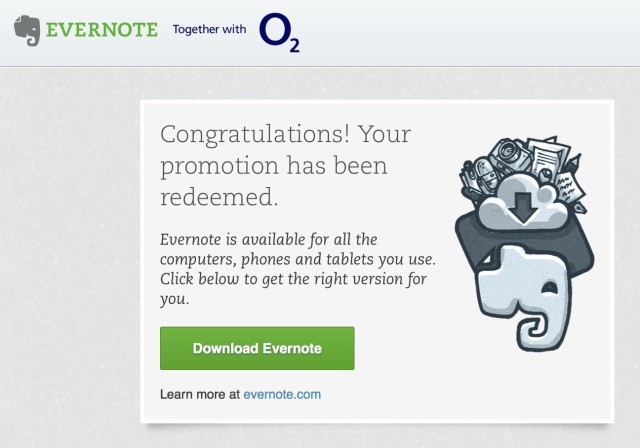 "At O2 we believe in bringing digital experiences to our customers so they can live a more rewarding life, and our partnership with Evernote is another example of how we're making this a reality," said David Plumb, digital UK director at Telefónica.
"Evernote Premium encourages customers to stay organised, collaborate with family and friends and get peace of mind, whilst plugging the gap between their personal and professional lives across multiple devices."
You'll need to sign up before October 24, 2014, to take advantage of the deal, so you have plenty of time. Evernote is accessible on your Mac or PC using the Evernote desktop apps, or by visiting Evernote.com in your web browser — and on Android, BlackBerry, iOS, and Windows Phone using the free Evernote mobile apps.
Tip: Not an O2 customer? That's no problem! You can get an O2 SIM for as little as 99p in the U.K.; simply stick it in your phone to redeem the promo code and get your Evernote Premium subscription for less than £1.
Source: O2