While the iPhone 5s is still difficult to get hold of more than three weeks after its debut — particularly if you want a gold or silver model — you shouldn't have any problem picking up an iPhone 5c at your local Apple store. That's because the cheaper device isn't selling anywhere near as much as its high-end sibling.
According to new research from Consumer Intelligence Research Partners (CIRP), the iPhone 5s is currently outselling the iPhone 5c more than two to one.
64% of iPhone customers surveyed by CIRP during the final days of September said that they opted to purchase the flagship iPhone 5s over the cheaper model, while only 27% picked up an iPhone 5c. 9% of customers decided to purchase the two-year-old iPhone 4s, which is now free on contract.
Those figures are hardly surprising, given the incredible demand we've seen for the iPhone 5s since it went on sale on September 20. But it doesn't mean the iPhone 5c is a flop. In fact, it's likely to be a hugely successful device over the course of the next 12 months.
The thing is, the flagship iPhone will always be in high demand for several months after its release, because it's the model enthusiasts are most interested in, and they're the ones who upgrade early. The iPhone 5c, on the other hand, will be the device of choice for those who are upgrading over the next 12 months but don't want to splash out on the high-end model.
The iPhone 5c is still selling better than the iPhone 4s did when that was demoted following the launch of the iPhone 5 this time last year, CIRP found. While the device accounts for 27% of iPhone sales in late September, the iPhone 4s only made up 23% of sales in October 2012.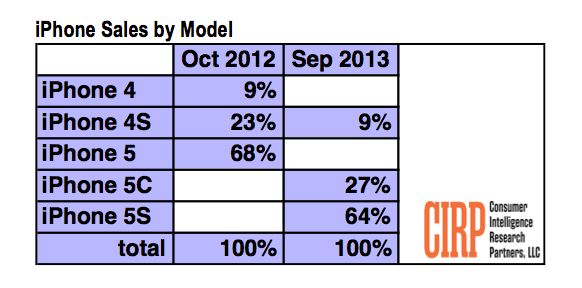 Don't write the iPhone 5c off just yet, then. It will be a massive success over the next year, and you can bet Apple will sell millions and millions of them.
Via: AllThingsD