I reviewed the Acase Collatio for iPhone 5 back in May, and I mentioned it was one of the best leather wallet cases I'd tested to date. It looked terrific, its build quality was excellent, and it was nicely priced. I couldn't wait to get my hands on Acase's leather iPad mini case, then.
Leather case for iPad mini by Acase
Category: Cases
Works With: iPad mini
Price: $39.99
I have to be honest, I've had it stashed away in a cupboard for a while. I got it not long after the iPad mini was released, but I had so many cases to review at the time that I ended up forgetting about it. Reviewing the Collatio reminded me it was there, and I've been using it on my iPad mini since.
Like the Collatio, the iPad mini case is made entirely of leather, and it has a front cover that folds over to protect your display. When you're using your device, the front cover doubles as a stand for typing or watching movies.
Magnets inside the front cover wake your iPad when you open it, then put it back to sleep again when you close it. They also ensure the front cover stays closed when you want it to.
The case provides access to all of your iPad mini's ports, buttons, and cameras, and it comes in black, chestnut, and vintage brown, with a $39.99 price tag.
The Good
The Acase for iPad mini is a beautiful case. Its high quality leather design provides an elegant and professional look while providing your device with protection from head to toe. It fits like a glove, and the iPad mini is held securely inside with a leather flap that slips in behind the device.
The build quality is excellent; the stitching is strong and neat, and I have no worries about it falling apart after months of heavy use. Acase has clearly used the best materials and built this thing to last.
I've been using the "vintage brown" version of the case, which has a soft matte leather finish. It has picked up quite a few scratches since I've been using it — mainly thanks to the kids — but as you'll see from the photos, they add character to the case and give it a great used look. I think it looks better now than it did brand new.
With that being the case, I'd recommend going for this color over the black and chestnut brown versions, which are made from shiny leather and are less likely to look good all scratched up.
When you're using your iPad, the front cover of the Acase folds over and clips into the case of the case to double as a stand. It provides a good angle for typing — though it's a little steep so you won't want to use it too long — and for watching movies. The stand is pretty sturdy, so there's no need to worry about your iPad falling flat on its face.
Scratches add character to this case and give it a great used look.
The magnets within the front cover work just like Apple's SmartCover magnets to wake your device when you need it, and put it back to sleep again when you don't. They also ensure the front cover stays closed when you want it to, and they prevent your display from being exposed if your device is dropped.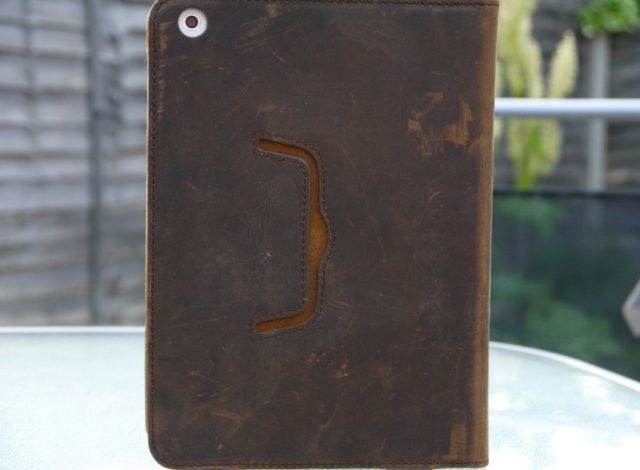 The Bad
One of the issues I had with the Collatio is that there wasn't enough access to the iPhone's mute switch, and I've had the same problem here with the iPad mini. It's not quite as bad, but as you'll see from the photo below, there isn't enough room above the mute switch to get your finger in, so activating silent mode is a pain.
Switching silent mode off again isn't an issue, and neither is using the volume buttons.
The other thing to note about this case is that it is a little thick. Because the iPad mini is so thin, adding any case makes it feel fatter than it should be, but the thick leather on this one makes it thicker than most.
I got used to that pretty quickly. I thought my biggest gripe would be removing my iPad mini to use it in my stand, but with the case's front cover doing that job, I haven't needed to.
There isn't enough room above the mute switch to get your finger in.
It's worth bearing in mind if you're trying to preserve your iPad mini's tiny form factor, though.
The Verdict
The Acase for iPad mini is a really beautiful way to protect your device, and it looks and feels like it should cost a lot more than $40. If you're looking for a great leather case for your iPad mini, be sure to visit Acase.

Product Name: Acase Leather Case for iPad mini
The Good: Beautiful case with terrific build quality, well worth $40.
The Bad: A little thick.
The Verdict: I still can't believe it's just $40. If you want a good-looking leather case for your iPad mini, buy this one.
Buy from: Acase
[rating=excellent]