The PopLock is a new iPhone 5 case from NutKase that does more than just protect your beloved smartphone from scratches and scrapes. Its built-in, pressure sensitive kickstand pops out with just a push, allowing you to stand your iPhone for FaceTime calls and watching movies.
PopLock by NutKase
Category: Cases
Works With: iPhone 5
Price: $22.99
The stand is also designed to be a clip, which lets you fix your iPhone 5 to almost anything that's sturdy enough to hold it, such as a computer monitor or an air vent in the car. The PopLock is made from a durable polycarbonate that promises to absorb shock, and it provides you with access to all of your ports, buttons, and cameras.
The case is available in grey and black, and it's priced at $22.99. Here's what I think of it after testing it for a few weeks.
What It Does
The PopLock is designed to be more than just a simple iPhone case, so it has a built-in kickstand that doubles as a clip. Because the kickstand is thin, the case can still be slim; it's thinner than every other iPhone 5 case with built-in kickstand I've stumbled across to date. The stand certainly adds a small amount of bulk to the back of your device, but you'll get used to it — it's a sacrifice you have to make if you want a built-in kickstand.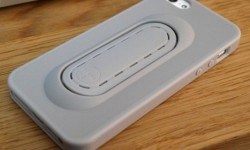 To open the stand, you simply give it a firm press and it pops open. There's a small piece of metal inside it that means it sticks out when you want it to, but stays flat when you don't need it. It works in the same way as those weird wristbands that girls used to slap onto your wrist in school.
The stand is sturdy enough to hold your iPhone in portrait mode, and this angle is good if you're using it at your desk. It's slightly laid back, so you can get a good view of your Twitter feed with a quick glance down at it. In landscape mode, the stand is great for movies.
But the stand isn't just a stand — it's also a clip that allows you to hang your iPhone from all kinds of things. It'll sit nicely on top of your computer monitor or your laptop lid if you don't mind blocking your view of the display, and it works great if you jam it into one of the air vents in your car.
In Use
At first I thought this would just be a gimmick, and that I'd never really use it. But the PopLock has surprised me.
In the car is where it has really shone for me. Using the iPhone's turn-by-turn navigation when it's fixed to an air vent is great, and it means you don't have to obstruct your view of the road by mounting your device to the windshield. I also found it useful in the kitchen by hanging the iPhone from a mug tree to listen to Spotify while cooking.
The more you use the clip, the more uses you'll find for it.
You have to be careful with the clip, though, because it won't stay attached to everything, and in some cases it'll drop off, leaving your iPhone on the floor. For example, it'll just about hand off my old Apple Cinema Display, but if you knock it, it comes tumbling down. The display is just a bit too thick.
As a case, the PopLock is very nice. It's not too thick around the edges of your device, and it doesn't stick out too much at the front. I'm not too keen on cases that sit right on the edge of the iPhone's display, but the PopLock stays well out of the way.
The PopLock covers your sleep/wake and volume buttons to protect them, but they're still easy to press. There's also plenty of room for the mute switch, as well as the headphone jack, the Lightning port, and the rear-facing camera.
And believe it or not, the PopLock is super light — even with that stand.
Product Name: : PopLock
The Good: Not just a case, but also a stand and a clip that comes in handy all the time. Once you've gotten used to using it, you'll miss having it on your iPhone when you use another case.
The Bad: The clip isn't super sturdy and you have to be careful about where you fix it, because it might fall down.
The Verdict If you want an iPhone case with a built-in kickstand, then the PopLock is a great solution. It's thin and light, it looks good, and it's also a clip.
Buy from: NutKase
[rating=good]