iGuy is a new iPad and iPad mini case from Speck that's built for one thing: taking a beating from sticky little kids. It's design buries your device inside a bed of flexible foam that ensures no matter how many times its thrown, dropped, or sneezed on, it will come out looking as good as new.
The iGuy's handles make the iPad easy to hold onto — not matter how small the user's hands are — and the feet allow the device to be stood up when watching movies and cartoons. And despite all that EVA foam, you can still access all your iPad's ports and buttons, as well as use its cameras.
iGuy comes in four colors — orange, green, red, and purple — and it's likely to be the best iPad accessory you buy.
The Good
If your iPad wasn't already hugely attractive to your kids, it will be inside the iGuy. Its cute design and brightly colored foam make are perfect for the little ones. But it's not just them that'll appreciate it.
For me, the iGuy offers more peace of mind that any iPad case I've ever owned. Its flexible foam design is so thick, that it absorbs almost any impact you can throw at it. I've never been comfortable with handing my iPad over to my kids — not unless they use it in bed or on the sofa, and agree not to carry it around (they're only small kids, they drop things too often). But with the iGuy, I wasn't worried at all.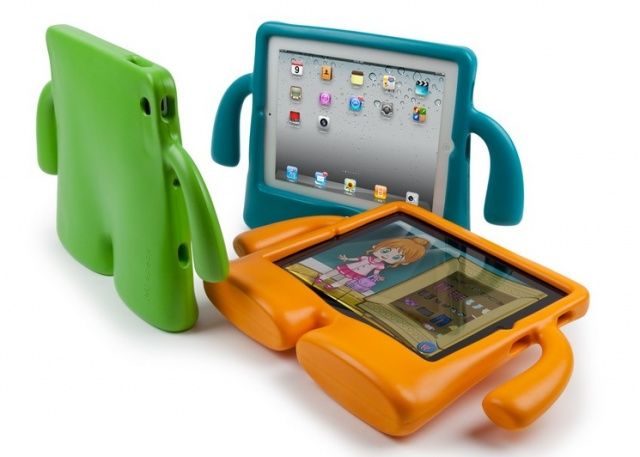 My iPad mini has been smacked and dropped more times than I can count, and even thrown across the living room in a strop, and the iGuy has ensured it doesn't have a single scratch, scuff, or dent on it.
The iGuy's handles are great; they make it easy for my two-year-old to hold onto the iPad and carry it around the house. Its feet mean I can stand it on a table or shelf so that they can watch their favorite shows in any room. The kids can also use headphones, plug in the charger, and use the iPad mini's cameras without having to remove it from the case.
The Bad
While I have plenty of praise for the iGuy, there are a couple of things I didn't like about it. The first thing I noticed about it is that it's not at all easy to apply. The foam is flexible, but trying to get your iPad inside it isn't easy. Maybe I've been doing it wrong, but I have to use a lot of force — so much so that I feel my thumb's going to crack my iPad's screen.
Removing the iPad from the iGuy is a whole lot easier, though.
The other thing that concerned me with the iGuy is that its foam material was a little too soft in some cases. My case is full of teeth marks where my little ones have bitten it, and if we hadn't have stopped them, I'm sure there'd be chunks of foam missing from it.
The Verdict
Despite its flaws, the iGuy is the best kid-friendly iPad case I've used to date — and I've used a lot so far. It takes plenty of abuse without passing any of it onto your iPad, and it looks great; it's not just a super sturdy iPad case, it's actually been built with kids in mind.
What's more, the iGuy's $29.95 ($39.95 for the larger iPad) price tag is sure to save you a small fortune in iPad repair bills.
If you have small children who like to use your iPad, get an iGuy and stop worrying about them breaking it.
Note: I reviewed the iGuy case for iPad mini, but I'm assuming the same points will apply to the larger case for iPad 3/4.
[xrr rating = 80%]