Sure, I could write a whole How-To on rolling your own "Back To My Mac." It involves port forwarding, obtaining a Dynamic DNS, blah blah blah.

Or you could use the iPhone app LogMeIn Ignition [iTunes Link] to remotely access to your Mac or PC in three steps.

First, sign up for LogMeIn free and download the Mac application. They also have a version for PC  and you can access multiple desktops from a single account.

Open the StartLogMeIn application and your computer is ready to go. You'll need to open this app on restart so if you're a power user go ahead and add StartLogMeIn to your startup items.

Two steps down–now you're ready to purchase LogMeIn Ignition on your iPhone [iTunes Link]. It's fairly priced at $30 so get over it. You're accessing a computer over the airwaves on your powerful phone/camera/ebook reader/information superhub. It's the future and it's going to cost some money.

Open the app, sign in and your home computer will show up in the computers list.
I love the options that you can access through settings in this iPhone app. Shake Swaps Screen–Brilliant. There are two types of scroll modes and I prefer "Screen moves" but both options take some getting used to.
LogMeIn Ignition doesn't have to be connected to the same network to access your computer. I tested this on AT&T's 3G network and was able to access my desktop at a decent speed compared to a wifi connection. If your connection seems a little slow, you can reduce the resolution and/or color quality to improve your experience.
The keyboard controls worked like they should but they were a little quirky.  I had to hit Alt Q instead of Cmd Q to quit Mail.app.
Update: The developer contacted Cult of Mac indicating the keyboard is set up to work on a PC by default hence the quirkiness on a Mac. You can go into your settings in your account on the LogMeIn website and change the keyboard to the Mac friendly setting. Crisis averted.
Being that you can use LogMeIn to access PCs there are function keys available by hitting the switch keyboard button at the top. It would be great if you could access the volume, screen and key brightness, and Exposé controls from the keyboard screen but you can't.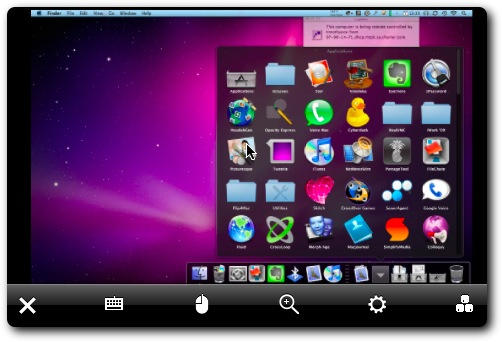 Multi-touch features in this app are great as well. You can drag and drop by double tapping an object and sliding. Right click is a two finger tap. Drag two fingers to scroll. Pinch to zoom.
The only drawback besides the keyboard quirk is that LogMeIn's full screen refreshes (such as expose, or opening a large window) take a while to render – even on wifi. You can lower the quality and get faster results, but if I'm on wifi I want as much speed as I can get.
LogMeIn Ignition [iTunes Link] is a great solution for extremely simple remote access. I think it's the best option overall for iPhone users wanting to access their desktops, and the LogMeIn free also allows remote access from computer to computer through the website.