The FlexiShield Skin from MobileFun is a translucent silicone case for iPad mini that's designed to offer long-lasting protection, extra grip, and a slender profile that "highlights the form of your iPad mini" rather than spoiling it.
It provides impact and scratch protection to the back of your device, while still allowing you to access all of its buttons, ports, and switches. It costs $16.49, and it's available in white, purple, and black.
The Good
If you want basic protection for the back of your iPad mini — not an all-over case that you have to keep opening up — then a case like the FlexiShield Skin is exactly what you're looking for.
It keeps your new tablet free from scratches, scuffs, and dings in such a simplistic way, you'll never have to think about it. There's no need to open it up every time you want to use your device, and you don't have to fight off a flappy front cover when you're gaming, reading a book, or trying to take a picture with the rear-facing camera.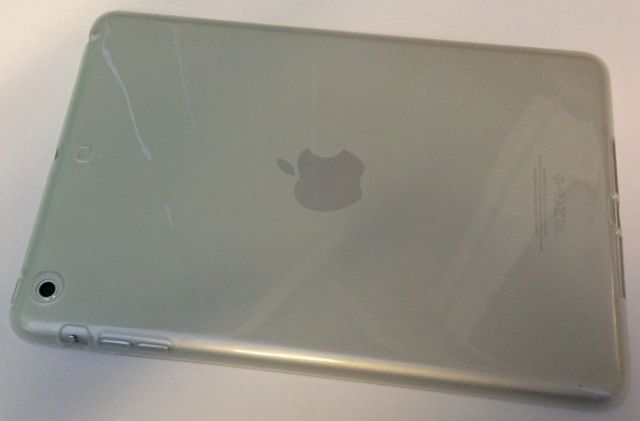 It does give the front of your device some protection, however. Its edges curl around to the front of your iPad mini to provide its display with a little bit of security when dropped on a flat surface.
FlexiShield Skin's translucent silicone allows you to enjoy your iPad mini's design without sacrificing its safety. It's not too thick, so it's doesn't add too much bulk to your device, and it's not at all heavy.
The Bad
The FlexiShield Skin doesn't provide quite enough room around the Lightning connector. When you plug your device in to charge, you need to pull the case out of the way a little bit, otherwise it'll push the cable back out — or it won't allow you to plug the cable in at all — and your device won't charge.
On two occasions my iPad mini started charge, but then I woke up to find it's battery was near enough dead that that the cable wasn't quite in far enough.
My biggest issue with the FlexiShield Skin, however, is that it's not good enough to warrant its $16.49 (£9.99) price tag. I know that's not really a lot to pay for an iPad case, but hear me out. The FlexiShield skin is just a basic silicone case — and that's it.
It's no different to the silicone cases currently selling on eBay for $5-$8.
The Verdict
I liked the FlexiShield Skin. It was great to know my iPad mini was protected, and that I could hand it to the kids and I didn't have to worry about them dropping it on the kitchen floor. That it doesn't have a front cover didn't bother me — I knew that going in, so it wasn't an issue.
What was an issue was that I knew I could have gotten exactly the same case a whole lot cheaper. Which is what I would advise you to do if you're looking for a case like this.
[xrr rating = 40%]