Now that Apple has released OS X Mountain Lion into the wild, millions of Mac users have a shiny new operating system to play with. If you haven't been closely following our Mountain Lion coverage over the past several months, you may not know some of the marquee features Apple has added in its latest Mac OS.
But you're in luck! Whether you just need a Mountain Lion refresher or you're getting a glimpse of it for the first time, we've got 10 killer features for you to check out first.
Notification Center
Apple took Notification Center from iOS 5 and baked it right into Mountain Lion. This means that your Mac finally has a built-in system for handling app notifications and new messages. New notifications will appear in bubbles at the top right of the screen and slide away into the Notification Center hub. Use two fingers to drag from the far right of your Mac's trackpad to the left side for an overview of all your unread notifications. There's a "Notifications" section in System Preferences that lets you customize the way notifications are displayed for certain apps, just like iOS.
Twitter Integration
Taking another queue from iOS, Apple decided to integrate Twitter into OS X this time around. Full Facebook integration will be coming later this fall, but for now you can enter your Twitter account and start tweeting like a madman on your Mac. Twitter is in a weird place in System Preferences. Under the "Mail, Contacts & Calendars" panel, you can add your Twitter account to enable the integration throughout Mountain Lion. Tweets can be sent right from Notification Center, and you can even share links from Safari and tweet a pic from Photo Booth or iPhoto. Replies and direct messages will be automatically sent to Notification Center so you can keep tabs on your all-too-important Twitter career.
Reminders
Reminders has been brought to the Mac in Mountain Lion as a standalone app so you can manage your reminders from the comfort of your Mac. The look and feel of Reminders on OS X is exactly like its iOS counterpart, so you should feel right at home.
Notes
The Notes application from iOS is also included in Mountain Lion, meaning that your notes are synced across all devices thanks to the magic of iCloud.
Messages
One of the best additions to Mountain Lion by far is the Messages app. You can finally use iMessage on any Mac running Mountain Lion. If someone else owns an iOS device, you can message them natively with Apple's new Mountain Lion app. Messages for OS X has been in public beta for months, and the final Mountain Lion version is pretty rock solid. Not only can the app be used for iMessage, but it's also the ultimate chat client. AIM, Jabber, Google Talk, and Yahoo! Messenger are also supported. And the best part is that it's all totally free.
Dictation
Siri-like Dictation is available anywhere and everywhere in Mountain Lion. After pressing a keyboard shortcut (you can customize in System Preferences), a little purple mic will appear wherever text can be entered. Say what you need to say, and boom! Dictation, baby.
AirPlay Mirroring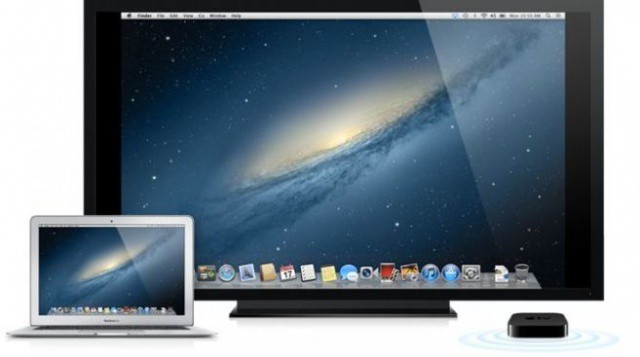 One of the coolest—and perhaps most underrated—features of Mountain Lion is AirPlay Mirroring. This new feature allows you to stream your Mac's entire screen in HD to your Apple TV. With resolution matching, iTunes integration and audio support, your Mac becomes a media hub for your HDTV. When an Apple TV is detected on the same network as your Mac, an AirPlay icon will appear in the Mountain Lion menubar.
Documents In The Cloud
Storing and syncing documents is much easier in Mountain Lion thanks to Documents in the Cloud. Apps like TextEdit, Preview, and the iWork suite support the feature so you can quickly access documents stored on iCloud. If you start a document or presentation on iOS and then want to finish it on your Mac, Mountain Lion will let you open it with ease, and vice versa. The "Open" and "Save" dialogs have an updated interface with iCloud and local documents for you to access.
Power Nap
Power Nap keeps your Mac running even when it's asleep. Emails, notifications, etc. are collected quietly in the background and are available when you wake your Mac back up again. Your Mac needs to be connected to a power source for Power Nap to work, and even software updates and Time Machine backups will be made while your Mac rests in peaceful slumber.
Sexy New Dock

Mountain Lion has a sexy new dock. It's like the icing on the cake.
OS X Mountain Lion is available as a digital download in the Mac App Store for $20. Make sure to check out Cult of Mac's mega-review for everything else you need to know.