AirPlay speaker systems are finally hitting the market in droves, but most of the ones we've come across cost more than a new iPad. As much as I love lusting over the devilishly good looks of higher end speaker systems, I don't like forking over a ton of cash for a speakers even if they do come with AirPlay support. iHome's iW1 sets out to become the wireless airplay system for the average consumer. It looks good. Plays pretty tunes. And at $300 it's fairly cheap, but should you buy it?
The first thing you notice when you unbox the iW1 is the great design work iHome put into their speaker. It's pretty enough to keep in your living room, and easy enough for your grandma to use. The iW1 packs two 3″ woofers and two 1″ tweeters for a combined rating of 13 x 2 watts of power. iHome says it can fill a small room with audio but don't think of it as a weakling. You're not going to be able to DJ any parties using this thing, but it packs enough power to entertain you over the noisy hum of your vacuum cleaner.
Setting up the system is a fairly straight forward process, but the really beauty of having the system is its rechargeable battery that enables it to become a portable wireless boombox. It weighs six pounds and has a handle in the back so you can pick it up and move it to another room in your house with ease.
Airplay gives users the ability to stream music from their iPhone, iPod Touch, iPad or Mac straight to the iW1 without using any wires, which is great because you can go about doing work around the house and control everything right from your iPhone. If you don't want to stream your music using AirPlay there are auxiliary and USB ports in the back so you can hook up your iPod the old-fashioned way. A beautiful touch-sensitive glass control panel on the top of the iW1 adds a certain level of new-age sophistication to the speaker system.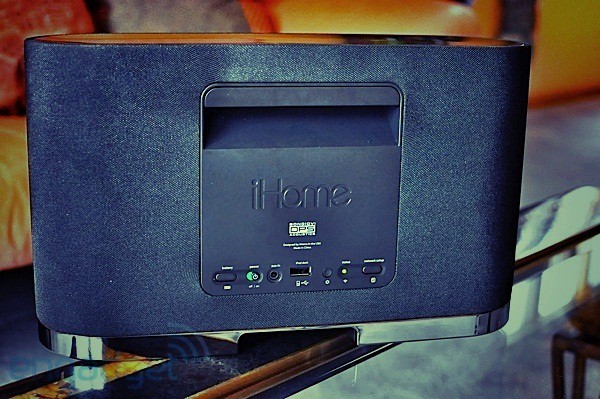 The Good:
The rechargeable battery is great. At 50% volume level the battery lasts a little under 10 hours, and at full capacity it lasts four hours, which is still more than enough time for most uses.
Portability is another key feature of the iW1. Not having to mess around with cables every time you want to take it somewhere is great. If your friends are having a party you can simply grab it from its charging station with one hand while you're heading out the door without having to worry about having all the equipment you need. Or in my case I could take it outside to the pool for a few hours, hangout, listen to music, then pick it up and put it back in my living room when I was done without ever missing a note.
Audio quality of the iW1 is fairly decent. It's not going to blow you away with a lot of heavy bass, but they did a fair job at getting some good treble out of the speakers without pushing the price point up.
Because it's an AirPlay system the iW1 has its own iOS app that can be used to control the wireless speaker system. The app is very easy to use and became my preferred method of interacting with the device rather than using the physical remote or touch-sensitive controls on top of the speakers.
The Bad:
The biggest flaw of the iHome iW1 is the interface implementations. iHome has admirably tried to follow Apple's lead and create a portable speaker system that oozes minimalism, but they miss the mark in a couple areas. The button system in the back is a bit mystifying. To check the battery level you have to press a button on the back of the device, but check the indicator on the top. There are 3 different buttons to check the Wi-Fi status and two power buttons. I'm not sure why iHome decided you needed all those buttons when just one will do the trick.
The huge touch control panel on the top is a great design feature of the iW1, but it's hard to tell what volume level you're at because it only displays one led light at a time. The farther to the right the dot is equates to a higher audio level, but when you first start using the iW1 you don't have a great visual idea of where you are at on that scale. Even after four weeks of testing I still didn't have a great grasp of complete audio level mastery using only the touch controls.
The Verdict:
The iHome iW1 has some flaws that need polishing, but for the most part it's a great AirPlay system. Its portability and easy recharging set it apart from competitors, and if you like taking your speakers to the park, parties, or even just around your house, the iW1 will be your best friend. For those looking for an AirPlay speaker system under $300 the iW1 is something to be seriously considered.
[xrr rating=80%]