Earbuds are a compromise. Bang for the buck, you'll always get better sound and bass from over-the-ear headphones, and probably better comfort as well. Notoriously fragile, you'll likely get more longevity with headphones than earbuds, too. But these are all the sorts of drawback you live with if you want to listen to your music on the go without carrying around a big pair of cans with you, and all of the technology of earbuds are largely extended towards minimizing their deficits when compared to their bigger, richer brothers.
Enter Sony's XBA range of earbuds. Spanning four models, each defined by its number of drivers — the Sony XBA-1iP, the Sont XBA-2iP, the Sony XBA-3iP and the Sony XBA-4iP — Sony's making a concerted effort to deliver high-end over-the-ear sound in a slim, light and portable package. But how well did they do?
Sony sent us two of their XBA series of earbuds to try out: the XBA-1iP and the XBA-3iP. The showcase of both of these earbuds is Sony's Balanced Armature Driver technology, which they promise delivers "crystal-clear vocals and booming bass with impressive depth," as well as an incredibly range of high and low frequency responses.
Superficially, the difference between the XBA-1iP and the XBA-3iP largely comes down to the size of the bud itself and the carrying case it ships with. Both are elegant and attractively designed with a built-in mic and iPhone/iPod controls, with the XBA-3iP coming with a larger housing attached to each earbud to fit the two additional balanced armature drivers: a full range driver augmented by a separate tweeter and woofer drivers.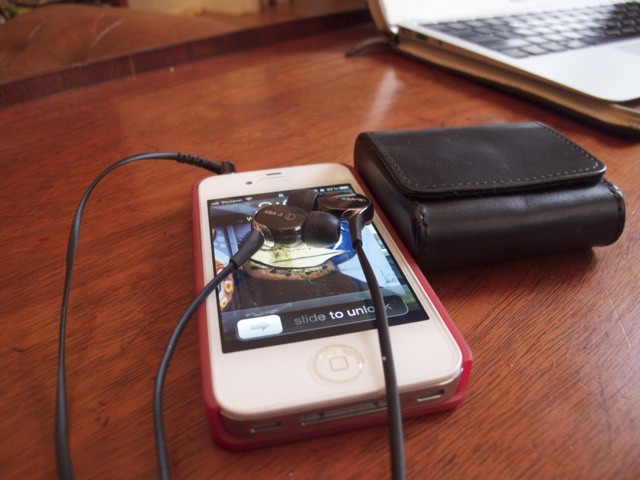 What's immediately impressive about the XBA-3iP is the amount of sound and hardware they fit into what are, in truth, extremely diminutive earbuds. Often in earbuds, lush, rich and clear sound is synonymous with earbuds that look like someone has hammered toy robots into your ear canal, but the XBA-3iPs manage to keep a low profile.
In reviewing the XBA-3iPs, we came to love these earbud's midrange clarity. In listening to multiple dense mixes, what we discovered over and over again was that the XBA-3iP allowed us to easily distinguish the sound of instruments that might otherwise be blurred together on an inferior earbud. Since this is the quality I tend to value most in an earbud, I really liked a lot of what the XBA-3iP did for sound.
Also impressive is the XBA-3iP's high frequency response, which I thought made symphony classical sound particularly good. Less impressive, we thought, was the XBA-3iP's bass response. It was there, and sounded good, but if you're the sort of person who wants to feel your entire cochlea shudder every time the bass comes in, the XBA-3iP's effect is actually very subdued.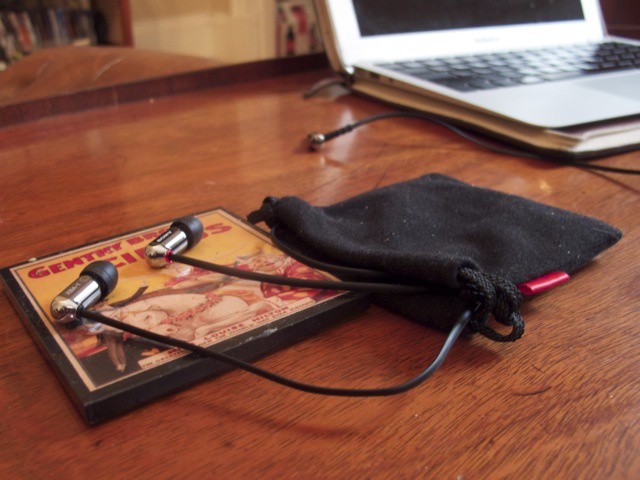 The XBA-1iP's midrange clarity we thought was similarly excellent compared to the 3iP's, but without a dedicated tweeter or woofer, bass and high frequency response were necessarily limited compared to the 1iP's fatter and more expensive brother.
With both models of XBA earbuds we tried out, we found Sony's offerings to be on the higher end of comfort. The XBA-1iPs are lighter and sit more airily in the ear while blocking out sound thanks to some well-designed rubber tips. The XBA-3iPs are a heavier set of earbuds, but they're well balanced to feel perfect in the ear.
In addition, both models come with great carrying cases. The 1iP comes in a velvety drawstring sack, while the 3iPs come in a reinforced, leather case with a magnetic latch. Their in-line mic and controls for the iPhone both work equally well, although I found with track switching and the like, I needed to keep my eye on the control to see which button I was pressing.
Overall, we were impressed by the XBA-3iP and the XBA-1iP. The 1iPs are solid, entry-level ear buds that are comfortable, stylish and will sound great for more consumers. And the XBA-3iPs? They sound even better, with great high frequency response and decent — if somewhat less forceful — bass performance for an earbud.
But should you buy them? We like the XBAs, but we're hard pressed to clearly recommend them. The $99.99 XBA-1iPs sound about as good as competing sub-$100 earbuds in our opinion, and the $349.99 XBA-3iPs are essentially for audiophiles only. Even so, the average listener is going to get better sound and comfort out of a $35.00 set of over-the-ear Koss PortaPros than they are from either of these earbud sets.
Ultimately, then, a lot of what it comes down to with both models is the same thing it comes down to with all earbuds: style and portability. Are you willing to pay more than a good set of over-the-ear headphones for equivalent or lesser sound, just because of style and portability? If so, Sony's XBA-1iP and XBA-3iP (if you can afford it) are both excellent choices: they're stylish and sound great. But if you're a serious audiophile, don't expect either of these choices to replace a good set of cans.
Product: Sony XBA-1iP
Pro:: Great mid-range sound, stylish looks, feel great in the ear, block out a lot of ambient noise.
Con: Skimps on the high-range and bass frequencies.
Product: Sony XBA-3iP
Pro: Fantastic mid-range and high-range sound, well-balanced, feel great in the ear, block out ambient noise, come with a stylish leather carrying case.
Con: Bass is so-so. Expensive.