O2 has had exclusive rights to sell the iPhone in the UK for a couple of years, but now its rivals are lining up to start selling it too. The big question is: will any of them offer a better deal?
So far, the answer seems to be "No".
Orange has published its tariffs and they include this entry in the table:
So, what does "unlimited*" actually mean? It means: "Fair Usage policy of 750MB/month applies." Oh.
This use of the word "unlimited" to mean "actually limited to an arbitrary figure that we decide and tell you about in footnotes" is not new in the UK. Lots of internet service providers have been offering similar "unlimited" bandwidth for years now. Woe betide your bank account if you stray further than the limit that actually applies to your unlimited account.
What's more, the UK's Advertising Standards Authority, a body with responsibility for checking that advertisers don't try and con the public, said in a ruling earlier this year that an ad for a Blackberry deal with "unlimited" data which was actually limited to 250MB/month was not in breach of its codes. (Although it did say that the ad should have included the limit as a disclaimer, which it failed to do in the first instance.) (Thanks to Phil Gyford for pointing that out.)
As much as O2 might have annoyed customers over the last two years, it hasn't imposed a data limit. It does have an excessive usage policy, which looks like this: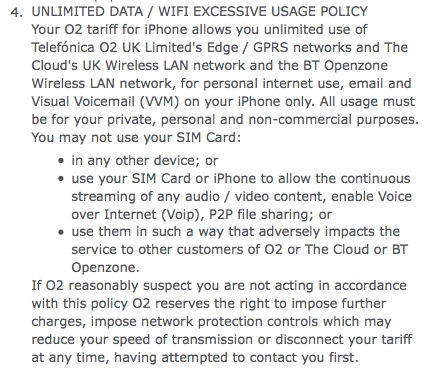 … but it doesn't actually pin down "unlimited" to a particular number. Speaking personally, I've found this truly unlimited data plan has been one of the greatest assets of owning an iPhone to date.