This post is brought to you by Alex&Rovich, publisher of the RealPinocchio app.
Although everyone knows Pinocchio, to most people in the English-speaking world at least, he is the doe-eyed cartoon puppet who's "got no strings" in the animated Disney movie made in 1940. Since then, there has not been a faithful rendition of Carlo Collodi's world-famous wooden creation, who first appeared in an Italian newspaper serial in 1881 and then a children's novel two years later. This is something of a travesty for Pinocchio, who in his original appearances was a free-spirited and willful marionette, a "truant and a vagabond."
RealPinocchio is a new app that restores the original story of the genuine Pinocchio. And the famous book is now finally interactive.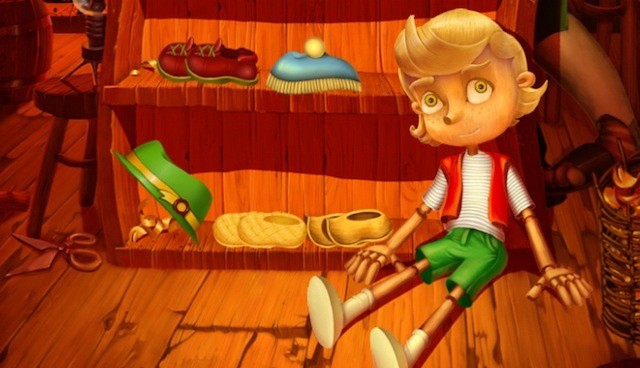 The original story of Pinocchio has been colorfully and imaginatively re-adapted for kids in the iPad Age. With highly detailed illustrations, young readers can engage in many unique and fascinating interactive elements in a loving and educational atmosphere. The app is designed to inform kids, through the use of a virtual interactive environment, Collodi's timeless virtues such as good and evil, loving your parents, appreciation of hard work, respect for elders and much other useful guidance.
With thirty-six simple chapters comprising 236 finely illustrated pages, the book will captivate children's interest. It also makes a fun read for adults and children to sit and enjoy together. Kids will especially love the twenty-eight interactive scenes disseminated throughout the chapters. In these highly detailed graphics, readers can play with accompanying animations illustrating Pinocchio's varied and amazing adventures. They can pick and choose Pinocchio's getup, find hidden characters lurking in scenes, and even really blow out a candle! The app's sound effects are particularly sonorous and appealing, even on the iPad's internal speakers. And there is a special surprise for kids awaiting at the end of the book!
This app is really immersing with a wonderfully enduring story combined with absorbing access to Pinocchio's world made possible thanks to the iPad touchscreen interface.
After being carved from a talking piece of wood by his father Geppetto, the heartless and work-shy Pinocchio, whose nose has a habit of elongating when he tells untruths, runs away to encounter a series of characters including the Talking Cricket, the Fire Eater, and the Lame Fox and Blind Cat. His vagabond peregrinations take him variously to the City of Simple Simons, the Field of Wonders, the Land of the Toys, and finally a tearful and much-reformed return to his yearning elderly father.
The real Pinocchio has more in common with the fantastical phantasmagorias of Lewis Carroll, Edwin Abbott's Flatland and The Phantom Tollbooth than Disney's soppy wartime cinema. And like those classic literary works' original illustrations, this app's dark and crepuscular, borderline-scary graphics give just the right atmosphere for a reading experience that kids will long remember.
The app is aimed at ages 5-12, although grownups will also enjoy the reading. It's available on the iTunes app store priced $6.99.