March Madness season is about to begin, so it's time to download the official NCAA app for your iPhone and iPad. With the free app and a $3.99 in-app purchase, basketball fans will be able to watch and listen to all 67 tournament games on the iPhone, iPad, and iPod touch.
Watch every game of NCAA March Madness LIVE on your iPhone, iPod Touch and iPad! Download for free to check scores, fill out and follow your bracket, get game alerts, and NEW for 2012 – listen to live game radio. Upgrade with in-app purchase and watch live streaming video of all 67 games every game of the 2012 NCAA Division I Men's Basketball Tournament for one low price of $3.99 for all 67 games.

From the First Round on March 13 to the Championship game on April 2, catch all your favorite rivalries, upsets, and buzzer beaters over both Wi-Fi and 3G. Plus, get alerts for your favorite teams, know when games go into overtime and crunch time, and set your TV channel settings to know where to watch any game on TV. You'll never miss an upset!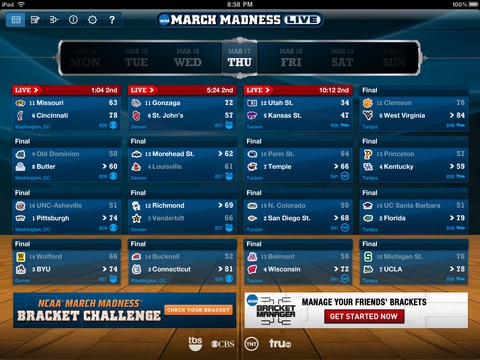 You can also track your NCAA bracket in the app and follow live scores and stats from your favorite teams. Push notifications can be sent for upsets and game updates. The app also integrates with Twitter and Facebook to let you share your activity.
Games can be streamed for free on the CBSSports website from any device that supports Adobe Flash. (We know, yuck.)
Download the universal NCAA March Madness Live app for free in the App Store.