Some Apple collectors gather one of every Mac, iPod or iPhone, while others specialize in portables or all-in-ones. Then there are the outliers, the super-collectors who search out the incredibly rare items most people never get a chance to see.
"I'm always on the hunt," says Henry Plain, a California man who specializes in tracking down impossible-to-find Mac prototypes.
Plain owns some of the rarest, most unusual Apple machines ever produced. These are the speed bumps, works in progress or developer's editions that the secretive Cupertino company never intended for outside eyes. His vast knowledge of Apple's production gave him a role in facilitating the sale of the Storage Wars-esque Macintosh collection of Marion Stokes that came to light last month. I like to think of him as Prototype Man.
What's in Plain's amazing Apple menagerie? Transparent versions of the Macintosh SE and PowerBook 140. A Mac mini with a built-in iPod dock. Prototypes of the Twentieth Anniversary Macintosh (TAM), the Power Mac G4 Cube and iDevices too numerous to mention. Even to other collectors — and I have a Mac Museum in my house — his inventory is crazy-impressive.
What do you get when you combine several hundred serious geeks, two large rooms, five decades' worth of vintage computers, and a weekend in New Jersey? The Vintage Computer Festival East, of course!
The ninth running of the VCF East was held April 4-7 at the InfoAge Science Center in Wall Township, New Jersey. Hosted by MARCH, the MidAtlantic Retro Computing Hobbyists group, the 2014 show saw the largest number of exhibitors and attendees for a VCF East yet, with exhibit halls expanded from one to two rooms and three days of lectures and seminars available for attendees. The show featured a wide range of computing history, from a seminal, room-size UNIVAC computer, through the DEC, Prime and HP minicomputer era, to the workstations and home computers of the 1970s and '80s.
Are you a Mac collector? An Apple investor? Do you like to buy old computers still new in their original packaging? If so, do we have a storage locker for you!
Marion Stokes was a librarian, activist and local access television producer from Philadelphia. Recently she made news for her incredible archive of 35 years of TV news broadcasts, recorded continuously on home videotapes from 1977 until her death in 2012. But Stokes was also a longtime Apple investor and Macintosh fan. Over the same timeframe she acquired nearly two hundred new-in-box Macintosh computers and related Apple gear, and kept much of this equipment sealed for posterity.
It's another incredible history, about technology and one unique Silicon Valley tech entity. And it can be yours, if the price is right. The whole kit and caboodle is available on eBay, listed for the Buy It Now price of $100,000!
The first Macintosh clone in the world was not one of the Apple sanctioned systems released in 1995, such as those from companies like PowerComputing, Radius, Umax or Daystar Digital. Nor was it the Outbound laptop in 1989, a hybrid system produced using Mac ROMs taken from working Mac Plus systems.
No, the first Macintosh clone was the Unitron Mac 512, a unauthorized copy of the 512k "Fat Mac" produced by a Brazilian company in 1986. And it was a pretty darn impressive copy. The fallout from that effort nearly help start a trade war between Brazil and the United States; to prevent theft of Intellectual Property, Apple and other companies lobbied Congress to hike import taxes on Brazilian goods like oranges and shoes as a response.
And as we know, nobody messes with Tropicana …
It's not a widely known story. Pieces of this long-forgotten chapter in Mac history can be found scattered on websites around the world. Here is the fascinating tale of the first Macintosh clone in the world.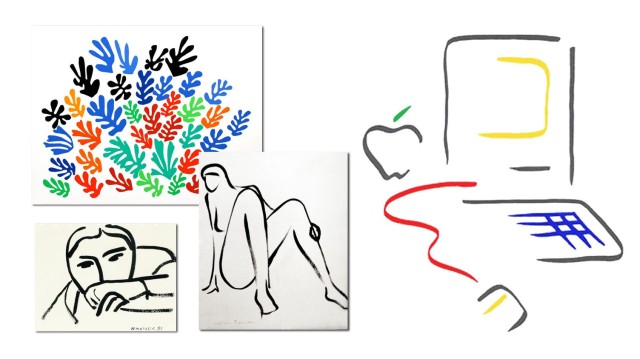 The famous Macintosh "Picasso" trademark logo was developed for the introduction of the original 128k Mac back in 1984. A minimalist line drawing reminiscent of the style of Pablo Picasso, this whimsical graphic implied the whole of a computer in a few simple strokes. It was an icon of what was inside the box, and became as famous as the computer it represented.
The logo was designed by Tom Hughes and John Casado, art directors on the Macintosh development team. Originally the logo was to be a different concept by artist Jean-Michel Folon, but before launch it was replaced by the colorful line drawing. It's been famous ever since, and the style has endured across decades.
Casado recently attended the 30th Anniversary of the Mac celebration, and emailed Cult of Mac to shed some light on the history of this famous graphic. It turns out Picasso was not the primary inspiration for this after all – rather, it was Henri Matisse!
Back in 1984, the birth of the Macintosh was not a quiet affair. Among his many talents, Steve Jobs was one of the great orators and inspiring speakers of our time. Part sage, part showman, Jobs combined the wizardry of a magician with the skills of a master salesman. The Macintosh was his baby, the intended salvation for Apple, and he wanted it launched with flair.
Many people have heard about, but not seen, one of the most influential demos of all — the actual unveiling of the Macintosh on January 24, 1984. In front of a group of Apple shareholders and VIPs, and giving a hint of Apple keynotes to come, a tuxedo-clad Jobs and his magical child stole the show. Now you can relive that glorious moment.
It's the 30th anniversary of the launch of the Macintosh, and we wondered at Cult of Mac what can we do to celebrate? Then we thought, let's dissect an original Macintosh and see what made it tick! There's nothing like destruction in the persuit of knowledge.
In full retro spirit, we asked our friends at iFixit if they would help perform a special anniversary teardown of the 128k Mac. How does our silicon hero compare to modern Macs in terms of components, assembly and ease of repair? Of course being true geeks themselves, they jumped at the chance.
There was only one problem: where to find an original 128k Mac.
On Friday, January 24, 2014, the Mac turns 30 years old. As we look back on three decades of Macintosh, there are some stories that have largely avoided the light of day for some time. One of these tales involves the production of the Macintosh Business Plan back in the early 1980s.
The tale was told by Mac design team member Joanna Hoffman to Bruce Damer, curator of the Digibarn Computer Museum. In 1981 Apple was beginning development on their new product lines, Lisa and Macintosh, and Hoffman was helping develop the business plan. She presented multiple drafts for Steve Jobs to review, but Jobs repeatedly kept sending her the plan back saying he didn't like it.
After a few rounds of this Hoffman realized that it was not the contents of the business plan that Jobs objected to but rather the appearance of the document itself. What he was reviewing looked just like every other business plan, nothing special. Jobs wanted the pages of the Mac business plan to look like the screen of the computer they were creating – WYSIWYG graphics, fonts, and pages with menus and submenus for section headings. The problem with this request was that Apple did not yet make any computers or printers which could produce the document Jobs desired.
This week in Cult of Mac Magazine: how some collectors are making serious money with old Macs.
Well, that and how some are discovering that it may be sentimental value that keeps the old machines humming – as it turns out for our publisher, Leander Kahney, who reminisces on the antiquated machines in his life.
And if you dream of finding an Apple 1 or coming across a Twiggy Mac and making a pretty penny, we'll tell you what happens when those machines roar back to life and come up at auctions.
We'll also help you figure out what to keep – and toss! – in your collection and showcase some of the coolest ways Apple lovers have repurposed those aging computer carcasses to give them new life.
Our Apple Genius dishes on how to keep your privates protected when you bring your machine in (it's not as hard as you think) and the best way to let your technician know you're not a total moron – so you can get your device fixed and get out as soon as possible.