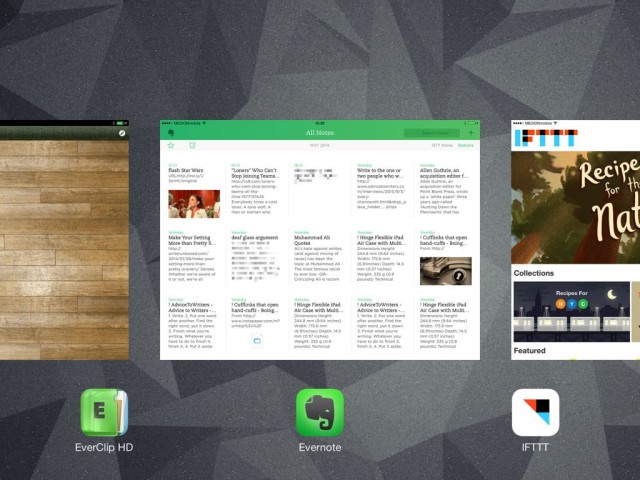 Welcome to the final part of our series about note-taking for writers (or anyone else). Today we're going to look at getting clippings and bookmarks into Evernote, to be stored and accessible alongside your scanned, paper-based notes (Part 1) and your text notes grabbed on your iPhone or Mac (Part 2).
We'll use a few apps and services to get this done – EverClip, Mr Reader, IFTTT and Pinboard are the main ones.
As ever, you could just do much of this using Evernote and its web clipper, but this only works in Safari and Chrome on the desktop. In 2014! Clearly that's no good. Let's see how we can do it better.
Instapaper v5.2 adds familiar yellow-marker highlights to your saved articles. This doesn't sound like much, but it will change how you use the read-later service. Instapaper is the O.G read-it-later app, letting you save those longer articles you find on the web, in Twitter, in your RSS reader or anywhere else. You send these articles off to Instapaper via a bookmarklet (or using the third-party integration from many apps), whereupon they are cleaned of clutter and saved for you to read off line.
This seemingly small update changes the game. Before, Instapaper was a transient place for long-form articles — you'd read them and then archive them. Now it's a place to organize and revisit articles, turning your collection of clippings into a library of annotated notes. And for the makers, it represents a way to make more money for the app, by finally adding a killer reasons for us to buy the $1-per-month subscription.
Today brings a big update for users of Pushpin, the already-excellent Pinboard bookmarking client for iOS. V 3.0 brings a sweet iOS-friendly look (it really does look great), plus a proper iPad interface, plus… well, a lot. Let's taker a quick look.
Pincase is yet another great Pinboard client for iOS. It's $2, it's universal, and it is ready for iOS 7. Oh, and it looks lovely too. What more could you need for managing and reading your bookmarks. What? You want more? Okay…
Paperback is a minimal read-later service that uses your Pinboard account as a source for articles. Any time you check the "Read Later" box when saving bookmarks to your Pinboard account, these items are added to a rudimentary queue. Paperback uses this list to provide you with a nice, clean, Instapaper-like web view of these links.
If you use Pinboard (and if you don't, you should), then you might also consider using a Mac app to save and browse all those achieved bookmarks. Which brings us to Shiori, a very plain-yet-pretty iOS 7-inspired Mac app for your Pinboard.
Have you ever wanted to start a blog? Do you have an idea that you'd like to get on the web but don't know where to begin in terms of design? Have you ever wanted to get a website up and running? Perhaps you're looking for a new theme to change up your current design?
If you've answered yes to any of those questions…keep at it because thanks to this Cult of Mac Deals offer for only $29 you can choose any two WordPress themes of your liking.
Pinbook is an excellent iOS client for the excellent paid anti-social bookmarking service Pinboard. Imagine if De.licio.us had never been sold to Yahoo and had instead started charging money to keep your bookmarks tagged and organized online. Further, imagine that the developer kept a Twitter stream that read something like the crotchety ramblings of your drunken (and outspoken) uncle. That service would be Pinboard.
The (non-affiliated) Pinbook client has just been updated to v1.3, and with the update come some fantastic new features. Let's take a look: