In the olden days, format snobbery was a little bigger. Real photographers used medium format cameras, stuffed with big rolls of 120 or 220 film, and they laughed at folks who struggled by with little toy "full-frame" 35mm cameras.
These medium format cameras were also distinctly old school, without much automatic control.
Back then, the Pentax 645 was an odd camera, an affordable medium format camera with auto-everything. Well, not everything, but way more than you'd get in the Mamiyas and Hasselblads at the time.
Which is all to introduce the Pentax 645Z, Ricoh's new 51.5 megapixel body with a price tag of $8,500, not much more than a top-of-the-line full frame SLR body.
Pentax's new Q7 has been styled to look like it was put together by somebody in shop class when told to "make a camera" out of whatever wooden offcuts were laying around the place. It can even be had in 120 different color combos, presumably all hideous.
But the Q7 does add one thing that's worth noting: A bigger sensor. And judging by how the lenses now match that sensor in terms of 35mm equivalence, it looks like this was the plan all along.
Pentax has just announced a new retro-styled point-and-shoot zoom camera, the MX-1. The trend for cameras that look like they've fallen through a time warp from the 1960s is trickling down from the high-end and into lower-cost, consumer-oriented models.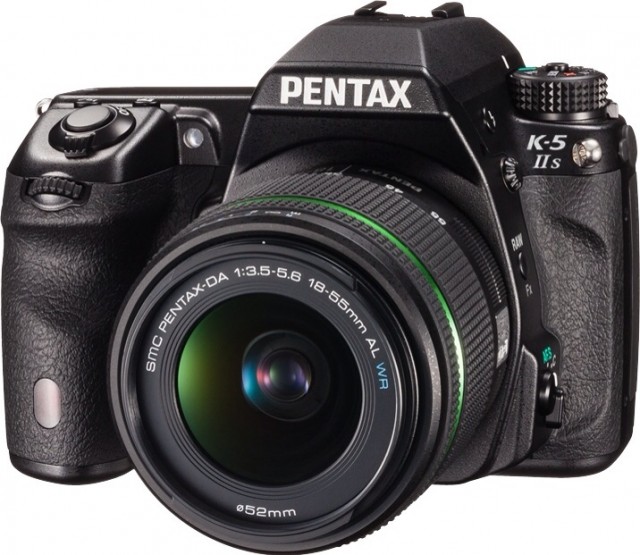 Pentax other announcement at Photokina this week concerns a pair of prosumer-level SLRs, the K5-II and the K5-IIs. These are the exact same camera, only the S has had its low-pass filter left off, and will cost you $100 more than the vanilla K5-II. The low-pass, or anti-aliasing filter allows for higher-resolution images, but could introduce unwanted moiré patterns into photos. Studio photographers will love it.
The Photokina photography show is in full swing, and with it comes a rain of new product announcements. Today is Pentax's turn, with a few new cameras including the Q10, an extra body for the Q-system.
The Q10 keeps the stupid small sensor in its mirrorless body, gets a little faster and also launches with a pointless new lens adapter.
The chunky K-30 is the latest DSLR from Pentax. Don't be deceived (or put off) by its unusual looks – in use, it's a fantastic general-purpose camera that produces high quality, color-accurate pictures. Cult of Mac took it for a spin.
Pentax new K30 SLR might be just the camera for you if you a) have a collection of K-mount lenses knocking around and b) you like to knock your camera around. The headlines: The K30 is a tough, weatherproof DSLR with a 16MP APS-C sensor, a top shutter speed of 1/6000sec, 1080p video (at 24p and 30p) and a maximum ISO of 25,600.
Pentax' tiny mirrorless camera, the Q (full review coming next week), is an odd beast. Like Nikon's 1 series cameras, it has interchangeable lenses which are inexplicably paired with a point-and-shoot-sized sensor (0.43 -inches on the diagonal). And now, with some new lens adapters, you can make it a little bit odder.
Pentax just announced a new interchangeable lens digital camera, the K-01. Like a lot of mirrorless cameras these days, the idea is to create something smaller than a DSLR, without sacrificing image quality or the flexibility to swap lenses when you need to.