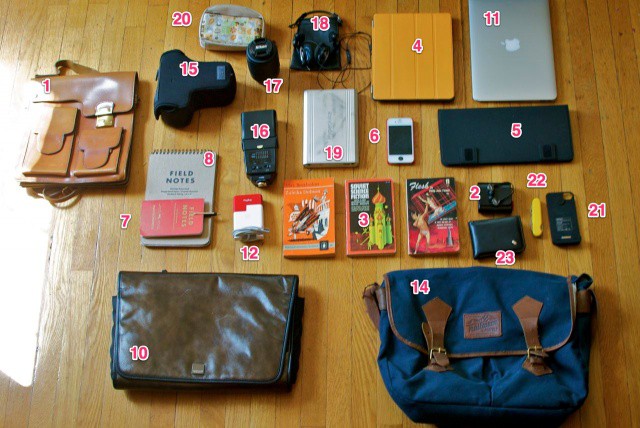 We're nosey as anyone here at Cult of Mac. We are also complete nerds, which means that we're always peeking into people's bags at conferences, or checking out what gear people use.
And we figured that you all might be just as bad, so we figured we'd rip open our man bags, handbags and purses and show you what's inside, and why we carry what we do.
We'll be doing this periodically from time to time. This week, we'll be checking out what's usually in the three (!) separate gadget bags of Cult of Mac Deputy Editor John Brownlee, and he'll be filling us in on what everything is and why he carries it.
The iPhone gets great battery life, but we no longer live in the era of simple cell phones with week long battery life. That smartphone in your pocket isn't just a way to make calls, but a real humming along inside your pocket, checking email, playing music, keeping an eye on your location, accepting text messages, sucking up push notifications, running Skype and a million other uses beside. That all takes up precious charge, and the more you pull that iPhone out of your pocket, the more quickly you use your battery up.
Given the realities of smartphone power management, battery cases like the Mophie Juice Pack are a necessary evil. Sure, they double and sometimes triple your battery life, but they also double and sometimes triple the size of your iPhone in your pocket. Worse, they are all-or-nothing affairs: if you want to use one, you need to take your existing case off your phone and put the juice pack on instead.
Boostcase's new Hybrid Case does away with all that. It's really two cases in one: a lightweight plastic protective case that can snap onto a beefy battery upgrade pack as needed that can juice your iPhone back up. And it's a pretty great choice for anyone who doesn't want to juggle cases on the go.