As we're probably all aware by now, Apple's Thunderbolt I/O debuted earlier this year with the new generation of MacBook Pros and threatened to make all other interfaces, like USB and FireWire, seem like stone-age relics — and at the same time, make obsolescent all current external HDDs. All, that is, except Seagate's line of GoFlex drives.

That's because the GoFlex system is different: It's modular, with the enclosure separate from the interface. For instance, our GoFlex for Mac Ultra-portable 1.5 TB ($220) test unit came with two interfaces: a USB 2.0 and a FireWire 800. USB 3.0 and eSATA kits are also currently available at $15 each, and Seagate says they're working on a Thunderbolt interface.

Swapping couldn't be easier. The "head" at the interface end of the drive simply unplugs with a bit of force. It's so seamless that a friend of mine who has a smaller version of this drive didn't even realize the interface was swappable. Unlike the USB interface, which has a removable cable, the FireWire interface's cable is not removable, which sometimes was a bit of an issue when toting it around — but a very minor one.

The 5400 RPM drive itself is relatively fast. Tests revealed fast enough speeds of 55.3 MB/sec read and 44.2 MB/write via the FireWire 800 interface (full results below) to theoretically handle editing compressed video. Pair that with it's gulpingly large volume and the 1.5 TB GoFlex makes a good choice for digital artists or for a portable Time Machine unit. It is, however, a little on the large side, and considerably bulkier than its 500/750 GB siblings.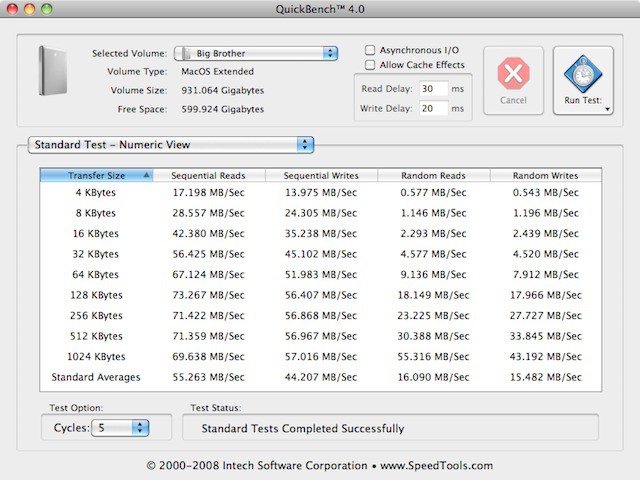 Seagate did a great job of creating a Mac-specific drive: it's ready to go out of the box, formatted in Mac-friendly HFS+; it comes with a FireWire 800 interface in addition to the USB 2.0 (the non-Mac version doesn't — although its USB is a 3.0); and the color matches aluminum-bodied MBPs almost flawlessly, a nice touch.
Verdict: It's a pricy behemoth; but the unique, flexible modularity of this solid-performer makes it a good choice — especially for those wanting Thunderbolt equipment but needing something now while they wait.
[xrr rating=80%]