Leave it to Gelaskins, makers of some of the best looking protective "covers" for electronic gear on the market today, to have nearly 300 choices for personalizing your iPad2 already in stock.
Much of the artwork available for these striking gear condoms (printed on feather-light, flexible space-age material invented by 3M) is intricate, busy and wild — taking away, in some eyes, from the elegance of Apple's iPad design.
Here, for readers' consideration, then, are a dozen creations of a more subtle bent, which tend to both command one's attention as artwork, while supporting a showcase for the latest iteration of Apple's post-PC mobile communication platform.
Each iPad2 skin sells for $29.95 through the Gelaskins website, where you can see the whole mind-blowing collection — along with their vast inventory of skins for other devices.
The themes in Audrey Kawasaki's work are contradictions within themselves. Her work is at once both innocent and erotic, attractive yet disturbing. Manga comics and Art Nouveau have influenced Audrey's precise technical style, whose sharp graphic imagery combined with the natural grain of the wood panels she paints on brings unexpected warmth to enigmatic subject matter.
Charles Harper's wildlife art is without fuss and feathers. He calls it minimal realism, saying, "I don't try to put everything in, I try to leave everything out".
Charles asks the people who enjoy his art to "remember that I didn't start out to paint a bird – the bird already existed. I started out to paint a picture of a bird, a picture which didn't exist before I came along, a picture which gives me a chance to share with you my thoughts about the bird."
Frank Miller gained notoriety working on Marvel Comics' Daredevil. There Miller honed his storytelling abilities, and took his first steps toward becoming a giant in the comics medium. After Daredevil came Ronin and the groundbreaking and acclaimed Batman: The Dark Knight Returns. Miller introduced Sin City in 1991, fulfilling his dream of doing all-out, straight-ahead crime comics. Today Miller continues to push the comics medium into new territory.
Gary Odom's fractals illustrate the intrigue of self-similarity at different scales, imitating nature while displaying intricacy and apparent motion. A longtime admirer of mathematical beauty, Gary has been creating fractals since 2003.
Not only does GelaSkins showcase great contemporary and classic artists the company produces art on its own.
Sort of.
Ok, not really, but they take iconic images from the public domain and make damn fine skins from them. Gelaskins art is inspired by nationalistic pride and pulp fiction, sports and cultural social movements, and is among the most popular skins the company offers.
For Giselle Silvestri, nothing is too taboo. Mass media, in all its glory and darkness becomes her source of inspiration. Life experiences, good or bad, are her subject matter. Clowns and Jolly Chimps are clearly in play.
Jeff Wood's work is 'old school eye candy tricked out in Drowning Creek fashion,' according to the artist himself. His pieces use illustration, special effect inks, state-of-the-art printing and unique papers — a process that has attracted a client list including 311, Gorillaz, The Allman Brothers and Widespread Panic.
San Francisco artist Lawrence Yang wrestles with informational abstractions by day and paints the demons out of his head by night. His analog artwork has graffiti and Asian influences, and is mostly concerned with creating order out of chaos – or vice versa. He works primarily in ink, marker, and watercolor, and finds the permanence of the marks adds a great deal of energy to the work.
Nathan Spoor paints narratives that chronicle a world rich with mystery, joy, pain — and a delicate balance of personal and spiritual evolution. Believing continuous study of technique and process are critical to his own growth as an artist, for Spoor no image or canvas is too precious to wipe, repaint, and even burn on his journey to discovery and expression.
Philip Straub's luminous and detailed digital paintings feature classical influences based purely on the fantastic. With visions inhabited by unique characters, filled with imaginative architecture, lush vegetation and dramatic lighting, his work appears on books, games, murals, gifts, stationery and textiles. He's been featured in several publications including The Society of Illustrators NY and Los Angeles Annuals, Spectrum Fantasy Annuals, Expose' digital fine art books, and on dozens of digital art websites and forums.
Steven Daily's passion for art was sparked by considerable moving between California and the American Mid-west during his formative years. Unsatisfied with the schooling he received, Steven developed a style informed by his personal experience and graffiti's lessons in color theory and composition. His work has been shown in galleries nationwide.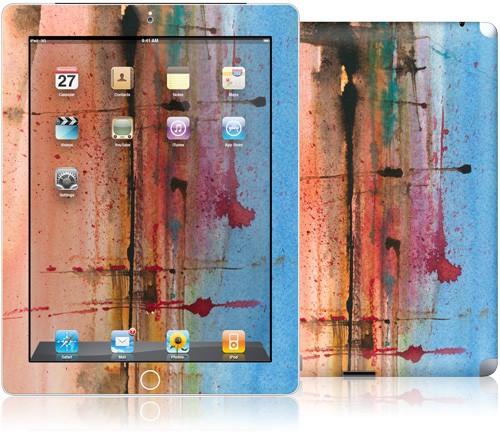 For twenty years Architecture and Art have allowed Warren Mack to explore the contrast between structure and organic form, toying with scale and perspective, invoking an emotional response to the vibrant, secretive, and spatial realm that one finds in surreal landscapes. In addition to his classical and modernist training, Warren's work is deeply influenced by Kandinsky, Escher, and Bacon, with three diverse styles providing inspiration and alternative views for perceiving the world around us.
Think you can do better? Gelaskins will create a custom skin for your iPad, iPhone, iPod or MacBook using your very own artwork — hit 'em up here.