Kicking off our list of must-have iOS games this week is NBA Jam, the latest App Store hit from EA Sports, featuring all the over-the-top, high-flying, 2-on-2 arcade basketball action, just as you remember it. Relive that '90s nostalgia with the hottest new arcade sports game for the iPhone, with the voice of Tim Kitzrow, the original NBA Jam play-by-play announcer.
Also in our favorites this week is Karoshi, an incredibly popular PC game which has now made its way to the iPhone, and also into the news headlines this week thanks to its dark storyline. Unlike the majority of games in which your sole purpose is to survive, in this one you take control of an overworked Japanese businessman whose mission is to end it all. As horrific and offensive as it sounds, it's nowhere near as bad as you think, and it's actually a lot of light-hearted fun.
Hungry Shark – Part 3 is the third of our choices this week, as well as the third in this series of top-selling aquatic eat 'em-ups. Chomp your way to the top of the food chain as you trawl the depths of the ocean in search of food to satisfy your voracious appetite in the most exciting Hungry Shark yet.
Find out more about the games above and check out the rest of this week's must-haves, including Carnivores: Ice Age and Chicken Coup, after the break!
NBA Jam – ($4.99) iPhone – Games
Get ready for the most intense 2-0n-2 basketball experience available on your iPhone with NBA Jam from EA Sports. There are two game modes to choose from including 'Play Now', in which you pick a team and jump straight in to the action, and 'Classic Campaign', in which you defeat all other teams to win the championship, unlock legends, hidden players, and combo cheats. Featuring 30 NBA teams and your favorite NBA stars; unlockable legends from the classic arcade era including Scottie Pippen, Dennis Rodman, Scott Skiles, and more; and classic commentary from the original NBA Jam announcer, Tim Kitzrow.
Karoshi – ($0.99) iPhone – Games
Why does every game have to be about survival, saving a princess, or being a hero? Well, now it isn't, because Karoshi is all about trying to find hilarious ways in which you can meet your gruesome demise. Mr Karoshi is an overworked Japanese salaryman who's finally reached the end of his tether. Control him through a huge collection of fast, mind-bending puzzles across 50 levels in this highly original puzzle platformer, and see if you have what it takes to put Mr Karoshi out of his misery.
Hungry Shark – Part 3 – ($0.99) iPhone – Games
Hungry Shark – Part 3 is the super additive sequel to the top-selling underwater eat 'em-up, and the most exciting and enjoyable Hungry Shark yet! The third game in the series introduces an underwater volcano complete with an evil genius and a secret lair, enemy sharks, massive oil rigs, underwater oil slicks, another 20 new creatures on which to feast, and lots more! It boasts impressive HD graphics made for the Retina display, a huge new game world, and Game Centre support with achievements and challenges. It's the same Hungry Shark you love, only better!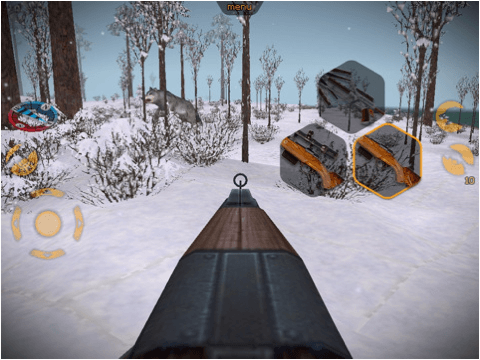 Carnivores: Ice Age – ($2.99) Universal – Games
For fans of hunting games, Carnivores: Ice Age offers a unique ice safari experience set on a recently discovered planet that provides you with the perfect place to test out your aiming and tactical skills. The games boasts an intelligent hunting experience in a large 3D world without limits, which makes the process of finding and hunting prey a lot more exciting, and gives the game an endless replay value. A range of 3D animals are available to hunt, from the common sabre-tooth tigers to the rare wooly rhinos, and each uses and advanced animal AI which turns them from quiet, easy targets into aggressive hosts protecting their planet, and adds an exciting shooter experience to the gameplay. Choose from 5 maps with different landscapes and climates and enjoy HD graphics, an interactive trophy room, Game Centre support, and a true-to-life hunting experience.
Chicken Coup – ($0.99) Universal – Games
Hens, roosters, and foxes are running wild, and it's your job to get them under control in this crazy farmyard game, Chicken Coup! Drag each animal in to its respective pen before the wily foxes can steal your precious chickens. Boost your 'chicken power' and form 'chicken chains' to gain huge score multipliers. When things get a little too much to handle, use a chicken bomb to clear the playing field for a last-minute save. Take on each frenzied level and see if you have what it takes to be at the top of the pecking order.